Worldwide Presence
---
We take pride in having solid, long lasting relationships with shipyards around the world – from China and the Indian Ocean to the Black Sea and the Mediterranean. We also boast presence in the Caribbean and the USA, as well as in West Africa. Get in touch with us so we can direct you to the closest shipyard that can handle your repairs and maintenance challenges.
Browse through our list of shipyards to get an idea of our extensive network and reach.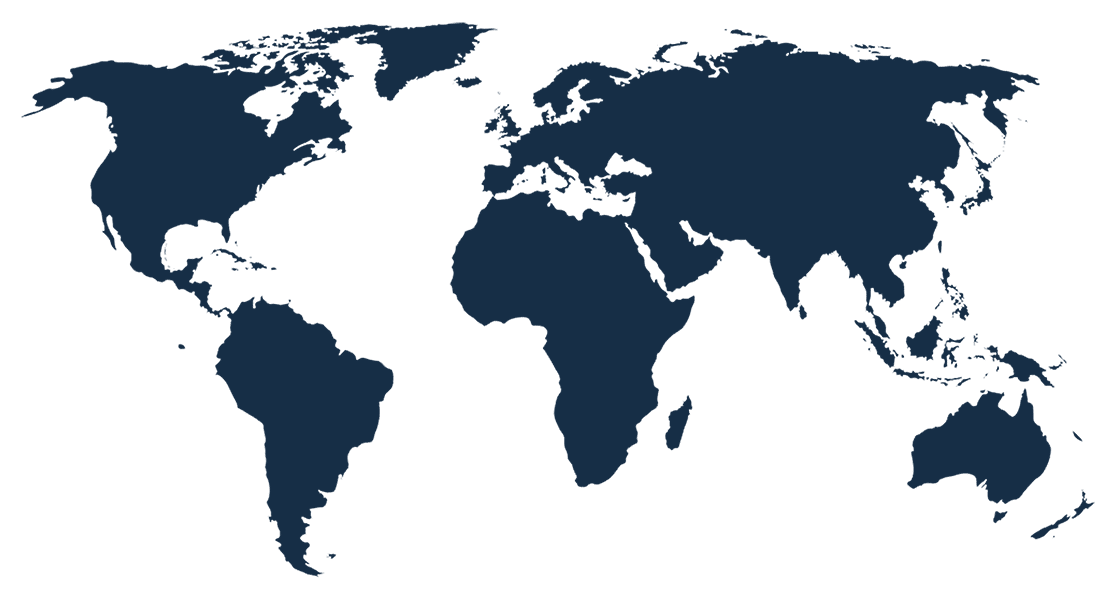 Choose Location
---
PSC Tema Shipyard
PSC-Tema Shipyard is located in the port of Tema, Ghana, and is one of the largest ship yard and drydock facilities in Africa. The Yard is part of the Malaysian Penang Shipbuilding and Construction Group (PSC) and is utilising PSC's worldwide assets as it becomes one of the most modern and efficient ship yards in Africa.
With 2 graving docks for vessels up to 100,000 dwt PSC-Tema can undertake repairs to all types of vessels from general cargo ships, tankers and bulk carriers to offshore support vessels. The Yard is well located for the major trade routes and the west African offshore developments. PSC-Tema's extensive facilities, coupled with a dedicated and experienced workforce, enable the Yard to provide a premier service to the marine industry in west Africa for ship repair, shipbuilding, steel fabrication, general engineering, metalock repairs and non-destructive testing.
Docks:
| Type | Dwt | Length(m) x Breadth(m) |
| --- | --- | --- |
| Graving | 100,000 | 277m x 45m |
| Graving | 10,000 | 106,7m x 13,7m |
Dormac Marine & Engineering
Dormac is a dynamic combination of energy, experience and traditional business values and a solid performance history dating back to 1903. The company provides ship owners and operators with a full spectrum of ship repair services and facilities, which are of the highest international standards. It is a black economic empowered company and operates both nationally and internationally under the direction of majority shareholders.
Dormac has a trade record of offering complex and successful solutions to vessels in distress using our experienced and innovative repair managers and dive teams. Dormac also offers a wide range of specialised engineering services to industrial clients. These include amongst the others, heavy machining, steel and pipe fabrication.
The Port of Durban is situated on the East coast of Africa, 680 nautical miles north-east of Cape Agulhas. It was developed primarily for import cargo but over the years cargo flows have changed significantly and exports have become more important. Durban has become a major city in South Africa with the port being the busiest on the African continent and the biggest in terms of container capacity. Strategically placed on the world shipping routes, the port plays a vital role in the life of the city. DORMAC utilises the National Port Authority's facilities in conjunction with its ship repair services. The Port of Durban is equipped to handle ship repairs at the Prince Edward Graving Dock, which can be divided into two separate compartments as well as on a floating dock at Bayhead, while small craft can be repaired on the slipway.
Docks:
| Type | Dwt | Length(m) x Breadth(m) |
| --- | --- | --- |
| Graving | 85,000 | 352m x 33m |
| Floating | | 100m x 21,6m |
Dakarnave Shipyard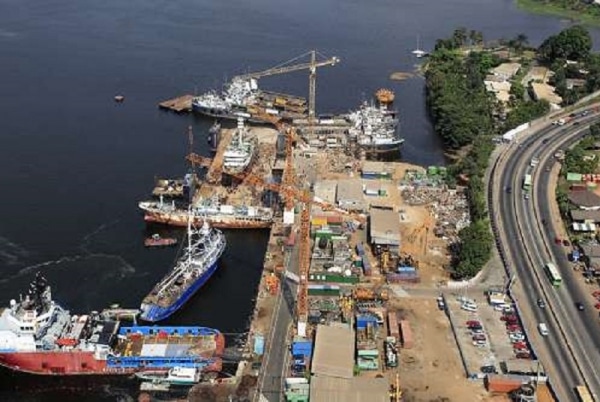 Cameroon Shipyard & Industrial Engineering (CNIC)
Cameroon Shipyard and Industrial Engineering Ltd (CNIC) is a giant industrial engineering complex, dedicated to serving the needs of shipping companies and marine industries operating on the western seaboard of Africa from Cape Verde down to Angola.
During its long existence, CNIC has distinguished itself as a leading specialist for rig repair/conversion in the region.
To successfully accomplish its mission, CNIC draws on the combined strengths of its ideal location, modern technological and logistic facilities as well as, the competence and devotedness of its skilled personnel to offer quality services to its Offshore & Marine clients.
CNIC is ideally located for vessels and rigs operating along the Dakar-Tema-Lomé-Port Harcourt-Douala-Port Gentil -Luanda axis of the Atlantic Ocean and especially the Gulf of Guinea area, which is the epicenter of deepwater offshore petroleum prospecting and production in West Africa.
CNIC is based in Douala – Cameroon , one of the most peaceful, economically secure and politically stable countries in Africa.
CNIC's current base in Douala is at close proximity to the Douala International Airport , which serves as a major link, with regular daily flights, to and from Europe , neighboring countries, facilitating personnel transport and quick provision of other services.
Our current base within the Douala Port Complex provides for seamless materials and personnel movement/forwarding with the assistance of our Agency and Transit Service while we attend to your vessel.
Docks:
| Type | Dwt | Length(m) x Breadth(m) |
| --- | --- | --- |
| Floating | 500 | 42m x 13.5m |
| Floating | 1000 | 60m x 13.5m |
| Floating | 3500 | 90m x 25.6m |
| Floating | 10000 | 172m x 33m |
All African Slipway
All African Slipway works in partnership with RUSHAN CITY SHIPBUILDING COMPANY of China, with the aim to provide cost-effective vessel repairs and maintenance to all ships working in sub-Saharan Africa. We are conveniently located at Sekondi-Takoradi about 100 nautical miles west from Tema or Accra.
Yardgem Docks
YARDGEM Denizcilik A.S. was established in May 2004 through a joint-venture between YARDIMCI Shipping Group and GEMSAN, two of the oldest and well established maritime sector firms in Turkey.
Yardımcı Shipyard and Gemsan Shipyard have been serving Turkish and foreign shipping interests by providing ship building, ship repair, maintenance and overhauling services since 1975 and 1983 respectively.
Yardgem Denizcilik A.S., has been established by the cooperation of these two well-organized ship building and repair companies with almost three decades of experience and operational excellence with a truly professional approach, a quick tumaround, dynamic and reliable organization to ensure cost effective solutions to Turkish and foreign ship owners' needs. We are fully committed to providing the best possible ship repair services to you.
Having this purpose in mind we have started our operations to offer optimum maintenance, drydocking, overhauling, steel and pipe renewal/installation, engine repair, blasting, painting, carpentry and upholstery, gas free, electric and electronic works and routine maintenance/overhauling works to our customers with the highest quality standards, reasonable pricing policy, reliable operation principles, an experienced Professional staff truly committed to utmost customer care and satisfaction.
Docks:
| Type | Dwt | Length(m) x Breadth(m) |
| --- | --- | --- |
| Floating | 80,000 | 230m x 37m |
TK Tuzla Shipyard
ERKAL Uluslararası Nakliyat ve Tic. A.Ş. operates "TUZLA SHIPYARD" as the largest ship repair facility in the Tuzla Bay. Tuzla Shipyard is one of the largest shipyard in Turkey and, throughout its history, it has been identified with remarkable naval work. Located in the Tuzla suburb of Istanbul, north east of the Sea of Marmara at the entrance to the Bosphorus, we provide drydocking, repair and conversion services with fast turnaround times at competitive prices.
Our Vision: We'll be the leader in transforming our industry, providing innovative solutions for the success of our customers and in fulfilling the changing needs and aspirations of our people. Our Mission: To be the best in shiprepair and conversion, expanding regionally and into growth business.
Docks:
| Type | Dwt | Length(m) x Breadth(m) |
| --- | --- | --- |
| Floating | 300,000 | 350m x 65m |
Tersan Shipyard
Tersan Shipyard Inc. is belonging to Tersan group of companies providing services in four maritime sectors, i) new ship building, ii) ship repair, docking & conversion, iii) ship owning & operation and iv) ship agency services. Relatively young group's, especially the ship building division has become one of the leading players in Turkey and as well as in Europe. Tersan's sustained success that is achieved by its experienced human resources, modern facilities, customer support and reliability guided the company to gain unique and challenging big orders.
The Tersan vision of success continues with further shipyard expansions; first their new (second) floating dock in the existing Yalova premises and the second expansion is in southern part of Turkey which in the soon future will allow them to serve the VLCC market.
Tersan is aiming to expand in many divisions of maritime sector and reach more clients in way of wisely investments with their basic principles of customer satisfaction and quality.
Docks:
| Type | Dwt | Length(m) x Breadth(m) |
| --- | --- | --- |
| Floating | 25,000 | 180m x 29m |
| Floating | 10,000 | 128m x 23m |
| Floating | 10,000 | 130m x 22m |
Sefine Shipyard
Sefine Shipyard was established in 2005. It is located in Yalova, Türkiye. Purpose-built on 140.000 sqm, Sefine Shipyard comprises a range of splendid facilities including a full service on-site Design Office and well-equipped with highest technology Indoor Halls and Workshops, also experienced and dynamic engineers staff, skilled and qualified subcontractors portfolio to occupy for new ship building, ship repair, docking and conversion. Throughout dealings with our yard, our customers can be confident of robust investment of our main partner, KOLIN Construction, Tourism Industry & Training Co. Inc.
Sefine Shipyard designs and constructs any type of vessels in its range of capability and may give complete design package from conceptual design to detail design, 3D modelling and class drawings and documents. Various of turn-key new building steel / aluminum vessels from cargo ships to tug boats, from open sea service vessels to ferries have been built. Sefine is the shipyard of the "most" and the "first" in Türkiye, with successful turnkey deliveries from the date of foundation,2005 ; provided its customer the best design service, the most realistic planning, the highest quality, the most successful and satisfying delivery and securest guarantee engineering. Also earned the customer trust with the highest standards. Sefine is also having the biggest Dry Dock in the region at 240x42x9 meters and docking up to Big Panamax size vessels. All main services and works are performed the Dock is also extremely competitive in terms of pricing, Quality and delivery.
Sefine offers and will offer; Advanced Design, High Technology, Perfect Quality, Reassuring Partnership.
Docks:
| Type | Dwt | Length(m) x Breadth(m) |
| --- | --- | --- |
| Graving | 95,000 | 240m x 42m |
Sefine ShipyardOdessos Shiprepair Yard
Relying on our solid base, excellent organization, highly-qualified personnel and rich experience, we have established as one of the leading shiprepair yards in the Black Sea and Eastern Mediterranean area. Odessos Shiprepair Yard S.A. is the largest and best equipped Bulgarian shipyard for docking of vessels up to 75 000 DWT and afloat repairs up to 150 000 DWT.
Odessos Shiprepair Yard S.A. renders services which satisfy the requirements of our customers. They meet the criteria set by the classification societies, international standards on safety of navigation and the NATO allied quality assurance publications.
4893 vessels have been docked at our yard from 1955 to 2014.
Due to our experience and excellent specialists we are able to execute successful, fast and reliable repairs on any vessels.
Docks:
| Type | Dwt | Length(m) x Breadth(m) |
| --- | --- | --- |
| Floating | 70,000 | 219m x 36,2m |
| Graving | 35,000 | 240m x 27m |
| Floating | 25,000 | 165m x 27m |
Myo Docks
MYO DOCKS is your reliable partner focusing on your requests and your vessels' needs, in Tuzla bay.
MYO DOCKS is established in 2016, through a joint venture of its shareholders' with more than 40 years of experience in ship repair and docking field in Tuzla bay, in response to the request of providing a full and dedicated service to its customers.
The young, dynamic, and strong team of MYO DOCKS with their vast experience mainly aim to provide cost-effective, punctual, reliable and high quality service to the maritime industry by means of ship repair, docking and conversion.
Kuzey Star Shipyard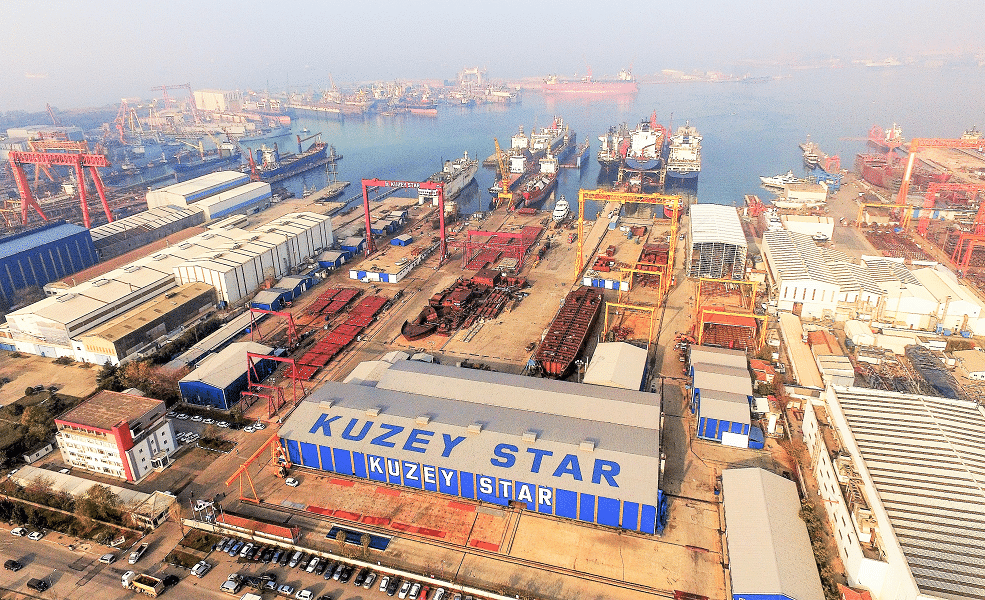 Desan Shipyard
Our prime location in the heart of Turkey combined with our highly reliable, responsible, hardworking and multi-skilled team makes us a dynamic player in the ship building and ship repair field. Well-equipped workshops and a team of experts with many years of shipping experience allow Desan Shipyard to offer the best solutions and excellent professional ship care service to ship owners. All works are performed according to the rules and standards of all major International Classification Societies and National Maritime Authorities. We value the latest technology, innovation, customer satisfaction, superior quality, best price, careful planning, punctual delivery time and priority to safety.
Desan Shipyard is a dynamic player in the ship repair & ship building field with a highly reliable, responsible and hardworking team and a proven success record of international business. Desan's team of experts have many years of shipping experience and offer the best solutions and excellent professional ship care service to ship owners. We value the latest technology and innovation and also our customers', shareholders', subcontractors' and employees' satisfaction and changing needs. We know that their success is our success.
Docks:
| Type | Dwt | Length(m) x Breadth(m) |
| --- | --- | --- |
| Floating | 90,000 | 234m x 41m |
| Floating | 30,000 | 197m x 27m |
| Floating | 18,000 | 145m x 25m |
Daewoo-Mangalia Heavy Industries (DMHI)
With a strong reputation of more than 30 years within the ship repair market, continued in the past years by a successful breakthrough and exclusively consolidation in the new shipbuilding market since 2015 to date, our company is prepare to start again Ship Repair and Conversion Activity.
Past experience and excellent results in complex ship repair & conversion work as well as our unique facilities for repairs is recommending DMHI as the right choice for all kinds of repair works, from routine maintenance up to major conversions for ships up to 250,000 DWT, including major steel,blasting and painting works, machinery overhauling and upgrading, as well all kinds of steel outfitting, piping and electrical works.
Our customers can take a great advantage of remarkable short time and fast dry-docking.
Chernomorsk (ex-Ilyickevsk) Shiprepair Yard
Chernomorsk Shiprepair Yard was established in 1951 in convenient harbour of Sukhoi Estuary ( the northwestern Black Sea). It has favorable location: close to Chernomorsk (ex Ilyichevsk) Sea port, 15 km from International airport and about 20 km from Odessa. Besides, ships calling at Chernomorsk in winter have the additional benefit of mild climatic conditions here.
Since the foundation of Shiprepair Yard, it has carried out repair works of all vessels types, using the latest technology. In 2006, the company changed ownership from public to private. These changes, along with increased activity of Shiprepair Yard in the world ship repair market led to a comprehensive modernization of the production capacity of the Yard.
Today Chernomorsk Shiprepair Yard is the largest Ukrainian shiprepair who provides first class facilities for any kind of ship repair and conversion. Nowadays the company is capable to repair all types of ships up to Panamax size including technically advanced types of vessels such as car carriers, ro-ro, ferries, Panamax product tankers, multipurpose vessels and container carriers.
Today staff of Shiprepair Yard accounts 700 specialists skilled in naval architecture, mach inery repair, piping, electronics, etc. Technical and engineering depatments provide support of repair process at all stages of repair. The yard's capabilities are enhanced by a large local network of sub contractors qualified in a variety of specialities.
Talleres Navales Del Golfo (TNG)
(no information available yet)
MEC Shipyard
MEC GROUP MARITIME ENGINEERS CORPORATION (PANAMA) INC. was founded in 1999, just before the Panama Canal was returned to the Republic of Panama by the United States of America, seeing the opportunities that were going to arise after the Panama Canal area was changed from the Military Strategic area to a Commercial Development place. Today the company is the Largest Ship Service Company in the Panama Canal Area and Latin America. The company is now divided among some subsidiaries that work under the same holding and the High Level Management.
MEC REPAIRS: The main company for all repairs on the areas of:· Engine repairs and Maintenance· Electric Motor Rewinding· Turbocharger Repairs (Under License of Turbo Seal Curacao)· Propulsion system repairs on the Local Dry Docks as subcontractors· Steel works, pre fabrication and damage repairs· Refrigeration System repairs · Electric systems, electric motors, repairs· Piping fabrication and repairs and repairs· Hydraulic System repairs including Cranes (under license of Macgregor)· Pneumatic System repairs· Hull preparation and Painting· Cargo Tanks and PaintingUNDERWATER SERVICES: The main company for all projects on the areas of:· Underwater construction (form work, underwater concrete pouring, caisson work, steel structure mounting, etc.)· Cleaning ( ship hulls, propeller polishing, water intakes piers, gates, canals, buoys, etc.)· Inspections (CCV underwater video with communications & digital pictures)· In water surveys· Search and Salvage· Rescue· Underwater structure welding and cutting.· Bottom ground studies· Permanent and temporary ship repairs· Anode welding· Structure evaluation· Technical consulting· TrainingSEA ELECTRONIC SYSTEMS: The main company for all repairs on the areas of :· Bridge and Navigation Equipment· Communication Equipment· Engine Electronic Control Systems· Deck Gear Electronic Control SystemsMEC STORES: The main company for all sales on the areas of:· Spare parts· Engine Stores· Deck Stores · Provisions· Bonded Stores
International Ship Repair & Marine Services
International Ship Repair & Marine Services began repairing ocean going vessels in 1973. Since its beginning, the dedication of our employees has given us the worldwide reputation for prompt, efficient, quality service. The company has maintained the basic foundation of International Ship Repair while adding extensive repair capabilities, conversion capabilities, and services.
Twenty-four hour, seven-day-a-week shifts insure minimum down time for vessels under repair. Our customers, many of whom have used the services of International Ship Repair for years, gain the advantage of having shipyard workers sometimes more knowledgeable with vessels than their own crews. From a small voyage repair, to conversions, to scheduled major repairs, the work is performed efficiently and at competitive, cost-effective prices.
Facility 1 (main yard) • 600 Foot Full Service 32′ deep Berth for vessels to 780 feet • 10,000 Square Foot Machine Shop • 500 Square Foot Electric Shop • 5,000 Square Foot Materials Workshop • 25,000 Square Foot Outside Fabrication Area (Partially Covered) • 1,600 Square Foot Equipment Maintenance Area • 5,000 Square Foot Administration Office • 1,800 Square Foot Production Offices Facility 2 • 1,000 Foot Repair/Lay Berthing Area with water, electric, and phone services available Facility 3 • PreFabrication/Conversion Yard • 600 Foot Repair Berth for repair of vessels to 500′ with complete services Facility 4 • 800 Foot Repair/Lay Berthing Area with limited services available Facility 5 • 500 Foot Repair/Lay Berthing Area with limited services available
Services We offer 24-hour service, 7 days a week Audio Gauging Boiler Repair or Complete Refurbishing Carpentry Coating Applications Conversions Damage Surveys and Repair Diesel Engine Repairs Diving & Underwater Inspections/Repairs Drydocking Electrical Repairs AC or DC Electronic Repairs Insulation Locating & Purchasing of Specialty Items Motor Rewind, Repair or Replacement Propeller Service Pump Repair or Replacement R-Stamp Certified for Pressure Vessels Refractory Replacement Sewage Systems Steel Fabrication & Replacement Tank Cleaning Traveling Repairs Valve Rebuilding & Repair Water Blast to 35,000 psi Welding (certified)
Ciramar Shipyard
For over 30 years the Ciramar family has been deeply involved in its core business, ship repairs, new constructions & conversions of vessels and seaworthy structures of all types for the maritime community.Throughout all this time we have managed to develop a well trained and certified staff, with one particular thing in mind, to excel in providing client satisfaction in all of our services, and at creating an environment where all of clients fell like if they where home among friends.We invite you to join us at the heart of the Caribbean, in the Dominican Republic, a wonderful paradise surrounded by some of the most paradisiacal coastlines in the entire world, and near most of the trading routes in the Caribbean and Gulf of Mexico. Feel free to navigate through our web page and to contact us if you need more information. We hope to hear from you to offer you innovative and excellent services, which will not only meet your expectations but your budget as well.
Our Syncrolift: A syncrolift with a lifting capacity of 300 tons and for vessels under 90ft. in length is available for small ships such as tugs, fishing vessels and pleasure crafts.
Floating Drydocks: Dock #1 has a lifting capacity of 960 tons and for ships under 42 ft. in breadth and a length of 220 ft.
Dock #2 is capable of lifting ships with a displacement of up to 7,500 tons with a length of 550 ft. and 75 ft. breadth.
Afloat Repairs: Conversions, outfittings and other topside repairs can be performed on our berths. These repairs include engineering, sandblasting and painting, tank cleaning, pipework, electrical, internal combustion engines, steel, machine shop, hydraulics and carpentry.
Workshops: The facility has a machine shop, electrical, diesel, welding, pipe, electronics and mechanical shops.
Cranes and Forklifts: There is a 45 ton capacity floating crane, 8 ton floating crane barge, two hydraulic cranes and two forklifts to handle all weights around the yard.
New Construction: A new construction shed with two 10 ton overhead cranes was completed in May 2003 and new vessels are built inside in alliance with Damen Shipyards.
Caribbean Dockyard & Engineering Services
Caribbean Dockyard and Engineering Services Limited (CDESL) is committed to providing a level of service to our customers for Ship Repair and ancillary Engineering Services that befits our reputation as a premier provider of such services to International clients.
Zhoushan Zhongtian Heavy Industry (ZTHI)
Zhoushan Zhongtian Heavy Industry Co.,Ltd (ZTHI) is located in Changbai Island, Dinghai ,Zhoushan City, Zhejiang Province., China. It covers an area of 853,338m2 with an impressive coastline of 3,500metres. The yard projected to build 4 docks in total: No.1 dock of 200,000DWT (340m*54m), No.2&No.3 dock of 100,000DWT (280m*40m), and No. 4 dock of 300,000DWT (400m*80m); equip with 3 jetties with 6 berths: No.1 jetty with 2 berths (470m*25m), No.2 jetty with 3 berths of 450m*600m (1050m*25m/40m) and No.3 jetty with 1 berth (400m*25m).
Now, dock No.1 & No.2, Jetty No.1& No. 2 and outfitting hull workshop, M&E workshop, Service workshop and Docking Repair workshop as well as other production supporting facilities have been put into use.
As a newly emerging shipyards, ZTHI has repaired around 60 vessels from shipowners home and abroad, vessel type including bulk carrier, refrigerator vessel, oil tanker, chemical cargo ship, and kinds of engineering vessel.
Docks:
| Type | Dwt | Length(m) x Breadth(m) |
| --- | --- | --- |
| Graving | 200,000 | 340m x 54m |
| Graving | 100,000 | 280m x 40m |
Zhoushan Xinya Shipyard
Zhoushan xinya shipyard was founded on August 2002, owning two dry docks of DWT 200,000 ( 362m x 54m x 12.4m) and DWT 80,000 ( 230m x 38m x 10.9m), four repair wharves ranging from DWT 200,000 ( 400m x 20m),DWT 150,000 (250m x 20m) and two DWT 80,000 (200m x 20m; 180m x 20m),with the coastline stretching over 1,500m. It covers an area of 230,000m2, including construction area of 60,000m2. The overall investment is RMB 1 billion; 800 shipyard workers and 3000 outworkers. Shipyard can undertake more than 160 large-size ocean vessels' repair and conversion annually.
Its geographic location is E122'06″50″ and N29'47″25″, situated at Donglangzui, Liuheng Town, Zhoushan City, Zhejiang Province, South bank of Shuangyu port ( Fodu waterway), in ther intersection of North to South marine traffic and Yangtze River's Golden Waterway, only 9 miles to the international sea route of Xiazhimen. Here is endowed with expanse and deep water space, slow tide, convenient water and land traffic.
Xinya Shipyard is specialized in repairing various kinds of vessels, such as container, bulk carrier, oil tanker and working ship etc. Shipyard have obtained the qualification of contracting steel vessel repair projects via international bidding both at home and abroad. In 2008, shipyard had repaired 208 vessels, including three oil tankers converted to bulk carriers, one passenger vessel modified from ferry boat, MV Zhongchang 118 damage repaired and so on, the total productive value approached RMB 1.8 billion. In 2009, shipyard successfully repaired 160 vessels, including one float dock length extension conversion. At present, our customers are over 29 countries and regions, far to Germany,Italy, Norway, Greece, England, Russia, Brazil, Indonesia, Singapore, Japan, Hongkong and Taiwan etc. Shipyard is continuously improving its comprehensive capabilities and introducing more advanced equipments and workshops.
Keep in persisting the tenet of "Assured Quality, High Efficiency, Excellent Service", we have been accredited to ISO 9001:2000 Quality Control System in 2006 and have been accredited to ISO14001:2004 Environmental Management System and GB/T 28001-2001 Occupational Health and Safety Management System later, and is subsequently awarded the titles as "Outstanding enterprise of technological transformation during the tenth five-year plan in Zhejiang province" and "Excellent enterprise with quality assured and customers satisfied in Zhejiang province" by Zhejiang Economy and Trade Committee.
Persisting in the development goal of "Professional Pefect Leading Eternal", following the commercial tenet of "Market-Orientation, Owner's Satisfaction,Service Quality Consummation"; rely on scientific and technological advancement; intensive and practical management, and optimization of production pgrogress, we devote to create a first-class brand. Sincerely welcome to cooperate with all customers in domestic and abroad to achieve development on both sides.
Following the commercial tenet, shipyard is performing the scientific management in compliance with ISO 9001 quality system. We warmly welcome global customers come to Xinya Shipyard for ship repairing and conversion.
Docks:
| Type | Dwt | Length(m) x Breadth(m) |
| --- | --- | --- |
| Graving | 200,000 | 362m x 54m |
| Graving | 80,000 | 230m x 38m |
Zhoushan Nanyang Star Shipbuilding (NASCO)
Zhoushan Nanyang Star Shipbuilding Co.,Ltd (NASCO) is one of the key ship-repairing enterprises in Zhoushan. It is a large ship repair enterprise designed and built following modern production procedure. It successful merged with SINGA STAR of Singapore in Dec.2011. The yard is capable of repairing all kinds of vessels including Panamax bulk carriers, container ships, car carriers, oil tankers…etc.
NASCO is located in Cezi Island, Dinghai District, Zhoushan City, Zhejiang Province, China, covering an area of 200,000m2 with a coastline of 800m in length. It has one 80,000DWT drydock and one 200000DWT drydock (under construction) with one 200000DWT and one 80000DWT outfitting jetty. The yard is equipped with 60T/30T/25T rail cranes, with cherry pickers in dock as well as hull workshop, M&E workshop and other facilities.
NASCO is capable of repairing of around 100 vessels per year. We had cooperation experience with shipowners from Korea, Japan, Russia, Creece and etc. for kinds of vessel.
Docks:
| Type | Dwt | Length(m) x Breadth(m) |
| --- | --- | --- |
| Graving | 120,000 | 280m x 42m |
Zhoushan Longshan Shipyard
Zhoushan City Longshan shipyard Co., Ltd. was founded in 1975, with the East China's first large-scale Panama dock, located at six cross town Zhoushan city Putuo District Sha Ao (longitude 122 ° 3 ′ 10 ″ latitude 29 ° 46 ′ 50 ″), adjacent to the famous international port — Ningbo port of Beilun and Shanghai, have excellent deep-water shoreline and the hinterland resources, geography position be richly endowed by nature.
The company has 200000 tons of dock of a (310m * 55m * 13m), 60000 tons of dry dock a (235m * 40m * 11m), 200000 tons of outfitting Quay (420m), two 60000 ton outfitting Quay (length 220m) and all kinds of ship repair Euipment, repair of the ship more than 160 ships the total tons, 20000000 tons deadweight. The main bulk carrier, container ship repair, oil tankers and a variety of special ships, deeply domestic and foreign ship companies, and has been the world famous classification societies recognized.
After 30 years of development, the company has perfect and efficient management, excellent staff team, has accumulated rich experience in the repair, and obtained the quality management system (GB/T19001-2008-ISO9001:2008), environment management system (ISO14001:2004) and occupation health and safety management system (OHSAS18001:2007) certification.
During the 30 years, no matter how the change of shipping market, we always promise, with the most short time, the best quality service owner, will so.
Docks:
| Type | Dwt | Length(m) x Breadth(m) |
| --- | --- | --- |
| Graving | 200,000 | 310m x 55m |
| Graving | 70,000 | 235m x 40m |
Zhoushan IMC-YY Shipyard & Engineering
Zhoushan IMC-Yongyue Shipyard and Engineering Co., Ltd is a Sino-foreign ship repair and engineering yard invested by IMC Pan Asia Alliance Group, Zhejiang Yongyue Shipping Group, and Zhejiang Haizhongzhou Group.
The shipyard (Long 122°16′22″E Lat 29°56′33″ N) is located at Zhoushan, which is near to Shanghai Yangshan Port. In addition, at within 2 days sailing from Japan or Korea, minimal deviation is required for vessels to reach. IMC-YY is the most convenient repair station in the region of far-east.
The shipyard occupies an area of 500,000 sq. meters and 1900 meters of coastline. Here, it enjoys a pleasant climate with an average temperature of 16'C and average annual rainfall of 1100mm. The weather condition is ideal for ship-repairing and engineering works.
The construction of IMC-YY started in Jul. 2003. And the shipyard started production in Jan. 2006.
Now the shipyard owns two dry docks, 774m wharf and comprehensive workshops.
The workshops including: steel & outfitting workshop, Machinery & Electric Workshop, Docking-repair Workshop, Ship Repair Assistant Workshop, and steel plate pretreatment workshop.
And in order to promote the shipyard's marine service, IMC-YY sets up joint ventures and service centers with some well-known companies.
Equipped with comprehensive facilities and skilled workforce, IMC-YY will offer a full range of ship repair and maintenance services to clients from all over the world. Up to now, the shipyard has established long-term cooperation of clients from over 20 countries and regions.
Docks:
| Type | Dwt | Length(m) x Breadth(m) |
| --- | --- | --- |
| Graving | 300,000 | 350m x 65m |
| Graving | 100,000 | 251m x 39m |
Zhoushan Hongzhou Ship Building
Zhoushan Hongzhou Shipbuilding is a leading enterprise in the ship repair industry of Zhoushan and the port condition of the ship yard is superior. The ports depth is 18 meters and the lenght is 600 meters respectively, making the condition ideal for ship repairing.
The yard has a dry dock with 196 meters in length, 34 meters internal width and 28 meters of the entrance width. It can accomodate vessels up to DWT 40.000 tons.
Docks:
| Type | Dwt | Length(m) x Breadth(m) |
| --- | --- | --- |
| Graving | 40,000 | 190m x 34m |
Zhoushan Changhong International Shipyard
Zhoushan Changhong International Shipyard Co., Ltd. is the core enterprise of Zhoushan Changhong International Industrial Park, which is invested by Jiangsu Xin Changjiang Group. The total investment of the Industrial Park is about 4 billion RMB, covering an area of about 1.6 million square meters with the the coastline of about 2,500 meters. The company is located in Zhoushan Archipelago New Area with great advantage of geographical location and convenient transportation .It is in the northwest coast of Dinghai District, Zhoushan City, adjacent to the international golden waterway and face to face the Shanghai Yangshan harbor across the sea.
Our company is a key enterprise in Zhejiang Province, which has already passed the quality management system, environmental management system, occupational health and safety management system and energy management system certification. Meanwhile, our company is enlisted as Zhoushan "ship featured company" and on the "white list" in 2014 which is authorized by the Ministry of National Shipbuilding Industry. Our company has high-quality ship design and production management team, which has been certificated by provincial qualification.
There are 300,000 and 80,000 tons each of dry dock, 30,000 LT floating dock, two 150,000-ton berth with outfitting quay of nearly 2000 meters, a 900 tons gantry crane and two 500 tons gantry crane. Annual processing capacity of steel can be reached to 300,000 ton and the shipbuilding to 2.52 million DWT, with construction conditions and capabilities of various types of medium-sized or bigger-sized ship building and pair at home and abroad.
Our company holds the spirit of good faith, cooperation and win-win situation, adhering to lean first class products, comprehensive environment control, first-class safety risk control and refined management of performance, thus creating a modern shipbuilding and marine industrial base towards world's first class shipbuilding enterprise.
Docks:
| Type | Dwt | Length(m) x Breadth(m) |
| --- | --- | --- |
| Graving | 120,000 | 380m x 40m |
| Floating | 80,000 | 220m x 57m |
Zhoushan Asia Pacific Dockyard (AP Dockyard)
Zhoushan Asia Pacific Dockyard Co., Ltd (AP Dockyard) is located in Zhoushan Island in China. AP Dockyard is equipped with modern facilities and with area of 500,000 sq. meters from 250 million USD investment. The dockyard was founded in 2008 and commenced operation from the beginning of 2012, majoring in ship repairing, conversion and offshore engineering maintenance.
AP Dockyard has the first class management team, technician and skilled workers expertise in managing and operating. It will become the most reliable dockyard in Far East with its essential mission being "We create the values for our clients".
AP Dockyard is near the main sailing line of Shanghai, Zhoushan and Ningbo ports. There is no time and tide limit for the vessels entering and leaving the dockyard. The dockyard quay is 892m in length with the average draft 12m. The two graving docks are 360m × 76m and 300m × 46m with Max draft over 10m, respectively. In particular, AP Dockyard possesses the first class engine, machinery and electric engineer and technician team in China with extensive experiences in dealing with complicated mechanical repairing as well as offshore engineering such as semi-submersible Rig, Jack up and PSV repairing and conversion.
AP Dockyard is close to the largest ports pool of China, such as Shanghai, Ningbo and Zhoushan etc. The ideal geographic location is convenient for ship repairing and docking. AP Dockyard is only 1.5 miles to the Zhoushan Ship Industry zone where the majority of the professional service stations for ship industry, class survey offices, and various suppliers are located. AP Dockyard also provides high-life quality to the ship owner's attending staffs, such as transportation, one high speed yacht and two speed ferries of the shipyard as well as governmental ferry and passengers vessels served 24 hours to easy access to the dockyard. As one of the most famous scenes city in China, various top grade international hotels and modern living facilities are easily found in Zhoushan.
Docks:
| Type | Dwt | Length(m) x Breadth(m) |
| --- | --- | --- |
| Graving | 300,000 | 360m x 76m |
| Graving | 180,000 | 300m x 46m |
Zhejiang Eastern Shipyard (ZESCO)
Zhejiang Eastern Shipyard Co.,Ltd. (ZESCO) is located in Qushan Island which is strategically convenient location to access about 15 miles south of Shanghai Yangshan C.T and in the center of China's ship repair industry cluster Zhoushan.
ZESCO is equipped with brand new facilities and experienced workforces optimal for all types of ship repair works,ship conversion and Offshore projects with excellent quality and best price.
ZESCO was established as Joint venture among Hanjin Shipping Co.,Ltd.,K-Line ,Shunhe Shipping Co.,Ltd. & Sinotrans, China.
Our goal is "World Best Premier Repair Ship yard"
Please do not hesitate to contact the ZESCO at any time with questions or comments.
Finally we look forward to seeing you in ZESCO.
Docks:
| Type | Dwt | Length(m) x Breadth(m) |
| --- | --- | --- |
| Graving | 300,000 | 360m x 76m |
| Graving | 150,000 | 310m x 54m |
Yiu Lian Dockyards (Shekou)
As a wholly-owned subsidiary of China Merchants Industry Holdings Co., Ltd., Yiu Lian Dockyards (She Kou) Ltd., founded in 1989, focuses on repair and conversion of various ships and offshore, as well as steel work.
Admitted by State-owned Assets Supervision and Administration Commission, China Merchants has achieved rapid growth and fulfilled five-year plan in advance. Keeping in touch with the solid step of the Group, Yiu Lian Dockyards (She Kou) Ltd., continually focuses on expansion and stresses restructuring, asset optimization and management upgrading. With rich experience and high-quality team work, Yiu Lian Dockyards (She Kou) Ltd., has successfully completed repair of all sorts of vessels and rigs at home and abroad, which enhances good reputation of Yiu Lian for its profession.
In respect of management, Yiu Lian Dockyards (She Kou) Ltd., is certified to conform to Quality Management System Standard ISO9002, ISO9001:2000, and OHSMS respectively in October 1997, April 2003 and February 2007, which are the best proof of our safety management.
Holding the principal of skillful workmanship, exquisite technique and high efficiency, with strong backup from the Group and China Merchants Industry Holdings Co., Ltd., Yiu Lian Dockyards (She Kou) Ltd. endeavors to continuously expand business scope and improve the quality of our ship repair service to meet the needs of a further step. Rising to one of the top ten ship-repair yards in China, our yard has been highly praised and trusted by our customers, as well as awarded by the Government for many times.
With the development of marine industry, in 2004 the Group invested RMB 2.4billion in upgrading Yiu Lian Dockyards (She Kou) Ltd. overall on a Mazhou Island that has been put into production in 2007.
Covering a total area of 700,000m2 in the Pearl River delta, the company operates along the coastline of 3,400m berths plus two VLCC drydocks with capacities of 300,000dwt and over 300,000dwt respectively and two original floating docks which can handle vessels of 70,000dwt and 30,000dwt respectively. Based upon a full range of equipments and dynamic manpower, our yard has accumulated sufficient experiences and technological knowledge in steel work, coating and painting, machinery maintenance, oil tanks' conversion and offshore repair and conversion. All staff of Yiu Lian Dockyards (She Kou) Ltd. would exert ourselves to provide sincere services to customers.
Docks:
| Type | Dwt | Length(m) x Breadth(m) |
| --- | --- | --- |
| Graving | Over 300,000 | 400m x 83m |
| Graving | 300,000 | 360m x 67m |
| Floating | 70,000 | 240.5m x 36m |
| Floating | 30,000 | 190m x 27.8m |
Weihai Huadong Ship Repair
AVIC Weihai Shipyard Co., Ltd. (former Shandong Province Weihai shipyard) was built in 1951. The number of staff in the company is more than 4,500 and there are over 500 technicians. The land area of the company covers 1,400,000 square meters, and the sea area covers 1,650,000 square meters. The wharf shoreline is as long as 1,844 meters. The production facilities include a slipway of 50,000DWT and two 100,000DWT drydocks, which enable the shipbuilding of all types of vessels under 100,000DWT.
The company has obtained the certification of ISO9001: 2000, and owns the right of self-operated import and export. The company is the enterprise technology center of Shandong province. It was accredited as Industry Technology Center By Shandong province in 2008, and was listed as Key Industrial Enterprise of Shandong Province in 2009.
In recently years, the company seizes the opportunity of the transfer of the global shipbuilding industry and the development of blue economic zone in Shandong Peninsula. It exploits the international market actively and takes batch orders. Internally, the company adopts the strategy of "invigorate the company through science and technology", and renews the technical equipment constantly, to help with the expansion of production scale and efficiency. The company has successively invested to purchase amounts of shipbuilding equipment, such as a 12-meter plate bending machine,a 500-ton numerical control rib bending machine, a 400-ton gantry and a 800-ton gantry, and some advanced facilities, such as heavy-duty numerical control cutting machine, pre-treatment line of steel plate shot-blasting and paint shop.In order to enhance the ability of independent innovation and development,the company undertakes to establish the Provincial Industry Technology Center which incorporates the product research and development, technology innovation, production, inspection and test, with the Weihai Ship Industry Association as the coordination unit. The Industry Technology Center provides the technical service for shipbuilding and ship repairing,and leads the development direction of the ship industry of Shandong Province.
To introduce in the advanced technical design idea of international shipbuilding industry, research and development the core technology of shipbuilding, and establish a professional design team, AVIC Weihai shipyard Co., Ltd. set up Shandong Delta-Marine Marine Engineering Co.,Ltd.in the joint venture with Finland Deltamarin Company. The partnership which has globally advantage in ship design enables the company to expand the business of shipbuilding design. Shandong Delta-Marine Marine Engineering Co.,Ltd.can not only meet the need of ship design for the company, but also undertakes the business of design and market research & development domestically and internationally. It has provided high quality design service for customers at home and aboard, including Deltamarin. To meet the need of international competition and raise the company's core competition ability, the company sets an aim at establishing a demonstration base for AVIC shipbuilding industry. It adopts the modern management mode for shipbuilding and sticks to the development idea of "general assembly in shipbuilding, service for the society, and support from the matched facility". The company utilizes the information system of ERP enterprise and strives to devolop the supporting enterprises. It established Weihai Jigang Qiyue Marine Plate Co., Ltd in a joint venture with Jinan Iron&Steel Group, and invested to build Shandong New Shipbuilding Heavy Industry Pipe Outfitting Fabrication Co., Ltd. and Shandong New Shipbuilding Heavy Industry Marine Steel Outfitting Fabrication Co., Ltd., which extends the industrial chain and forms the a series of supporting facilities. The achievement facilitates the company to become the bellwether of high-end industry park in Weihai, and sets a steady foundation for establishing the blue economic zone and the manufacturing base in Shandong Peninsula.
In 1998, the company took the lead to build the first exported ship in Shandong Province, a 820TEU container vessel. After that, the company accelerates the development and expands the international shipbuilding market constantly. It has built a series of exported vessels, including 92,500DWT bulk carrier, 30,000DWT bulk carrier and 1300TEU container vessel for shipowners from Germany, Holland, Greece, Canada and Japan, etc. The company has gained titles of Advanced Enterprise of Shandong Province, Good Faith Enterprise of Shandong Province, and Advanced Enterprise of Shipbuilding Industry in Shandong Province successively.
Docks:
| Type | Dwt | Length(m) x Breadth(m) |
| --- | --- | --- |
| Graving | 100,000 | 276m x 50m |
Tianjin Xingang Shipbuilding Heavy Industry
TIANJIN XINGANG SHIPBUILDING HEAVY INDUSTRY CO., LTD. built in 1940, is located in Xingang, Tanggu, Tianjin,at the mouth of HAIHE RIVER empties into the BOHAI BAY, next to Tianjin Port and close to BEI JING 240 kilometers away. It is one of large heavy-duty shipbuilding & ship repairing enterprise under CHINA SHIPBUILDING INDUSTRY COMPANY.
As the important base of repairing, conversion, building for vessels, offshore project, large onshore project in northern China, shiprepair yard accumulated abundant shiprepairing technology & engineering management, and have repaired vessels from Singapore, Greece, Polish, America, Russia, South Korea, Japan and Hong Kong etc, countries & area and domestic vessel. Currently, shiprepair yard could repair and refit various ships under 50000 DWT as well as build offshore drilling platform,fish-processing vessel, yacht and tug. Recent years, shiprepair yard has successfully converted more than twenty vessels such as chemical tankers, oil tankers, refrigerated vessels, fish-factory vessels, passenger ro-ro vessel, car-carrying vessel, passenger vessel, bitumen ship, tug and so on. We have abundant experience on machine repairing, such as various kinds of M/E and A/E, as well as propelling plant.
Docks:
| Type | Dwt | Length(m) x Breadth(m) |
| --- | --- | --- |
| Graving | 30,000 | 212m x 27m |
| Graving | 3,000 | 106m x 16m |
| Floating | 6,000 | 155m x 24m |
Shanhaiguan Shipyard
Shanhaiguan Shipbuilding Industry Co., Ltd. (SHGSIC), whose former name is Shanhaiguan Shipyard, is a first class state-owned enterprise of China Shipbuilding Industry Corporation (CSIC). It was established from 1972, went into operation in 1986, and transformed into Enterprise in 2007.
The main business of SHGSIC is ship-repair , shipbuilding, ship conversion, scrapping, off-shore engineering construction, maintenance, harbor machinery, steel fabrication, shipping spare parts providing, heat-dip galvanization, project construction, wharf loading/unloading and storage business. SHGSIC has been found to conform to system standard GB/T I9001-2000-ISO, gained the authority of doing direct import/export business in 1995 and the authority of harbor & mooring managing in 2001.
The area of SHGSIC is 3,116,000m2, which includes 2,088,000m2 land areas and 1,028,000m2 harbor basin areas. The principal dimensions of two ship-building docks are 240m×28m×9.8m and 440m×100m×12m; four ship-repairing docks are 240m×39m×11.4m、340m×64m×12.8m、320m×56m×13.3m and 260m×50m×13m.There are 19 quays of 5641.6m length in total. There are steel treatment plant, piping fabrication workshop, hull association workshop, subsection installation & welding workshop and complex coating shop and other production equipments. There are over 6000 sets of facility including 600 tons gantry crane, tug boats, 1250 tons hydraulic machineries, edge planers, guillotines, steel pre-treatment line, sheet flattening machine, pipe bending machines, 10 meters lathes, submerged arc welding machines, co2 protection welding machines, CNC steel cutters, plasma cutting machines and photo-electric tracing cutting machines. At present SHGSIC has more than 2,700 employees including 1,000 senior technical workers, professional administrators and engineering technicians. In addition, there are 1,500 contract workers and 12,000 outsourcing workers contribute energy to the production.
The ship-repair annual capacity of SHGSIC is more than 200 vessels . According to the regulations of ship classification society at home and abroad, international pact and standard, SHGSIC has repaired and converted tankers, rigs, bulk carries, general cargo ships, Ro-Ro ships, container carriers, reefer ships, ore carries, floating cranes, rescue ships, supply ships, harbor vessels, chemical tankers, special vessels, offshore facilities etc. The shipbuilding annual capacity of SHGSIC is about 1,400,000DWT. We have accomplished a series of new building projects, such as two semi-submersible barges , well-known turbine installation vessel , 70,000DWT floating dock , two 2600TEU container vessels , 30,000DWT bulk carries, 30,000DWT lake bulk carrier, 35,000DWT bulk carriers, 93,000DWT bulk carriers etc. Now we keeps a good business relationship with many major shipping companies from more than 30 countries and areas with good reputation. Such as Korea, Greece, India, Denmark, USA, Hong Kong Taiwan etc.
SHGSIC is busy providing well-pleasing products for ship-owners and clients depending on its advanced facilities and abundant technical strength. The successful delivery of these vessels promoted the establishment of "Brand of SHGSIC" in shipbuilding and repairing market.
Docks:
| Type | Dwt | Length(m) x Breadth(m) |
| --- | --- | --- |
| Graving | 500,000 | 440m x 100m |
| Graving | 300,000 | 340m x 64m |
| Graving | 200,000 | 320m x 56m |
| Graving | 120,000 | 260m x 50m |
| Graving | 100,000 | 240m x 39m |
| Graving | 50,000 | 240m x 28m |
Shadong Xixiakou Shiprepairing
RONGCHENG XIXIAKOU SHIPYARD CO. LTD. is located at the geographically convenient Longyang port in the city of Weihai, the easternmost port of China and the one closest to the Korean Peninsula. The shipyard covers a land area of 180.000 square meters and has available two graving docks of 55.000 D.W.T. and 80.000 D.W.T. and four slipways. The shipyard specializes in ship-repair and has initiated a project of constructing a 300.000 D.W.T. dry-dock.
Docks:
| Type | Dwt | Length(m) x Breadth(m) |
| --- | --- | --- |
| Graving | 85,000 | 240m x 38m |
| Graving | 55,000 | 205m x 38m |
SCSC Wusong Shipyard
As one of the key ship repairing enterprises of SCSC SHIPPING INDUSTRY CO., LTD in Shanghai region, it is located at Wusongkou area in the lower reaches of Huangpu River in Shanghai, adjacent to Pudong Waigaoqiao Free Trade Zone, with 846-meter long coastline in active usage. Boasting an area of 60000 sqm, one 60,000 DWT (210m*37m) floating dock and three 50,000 DWT berths, one 10t dock crane and one 15t dock crane, three 40T/70m fixed shore cranes, one 60t floating crane and three 3000HP towboats, it can repair and refit 80 ships annually. It has been certified with ISO9001:2007, OHSAS18001:2007 and safety management certificate.
Docks:
| Type | Dwt | Length(m) x Breadth(m) |
| --- | --- | --- |
| Graving | 60,000 | 210m x 37m |
SCSC Minnan Shipyard
Minnan Shipyard of Shanghai Chang Jiang Shipping Corporation which located by the Huang Pu river, is one of the professional repair shipyards of China Changjiang National Shipping (Group) Corporation. We major in repairing all kinds of national and foreign ships under 30,000 tons, especially repairing and converting foreign ships. We can contain more than 130 ships yearly. We have the advantage of repairing period in the field.
Minnan shipyard is established in 1979 with 850 meter long warfage and good draft. Since start business with foreign ships in 1992, we have had business with tens of companies all over the world, such as Russia, Greece, Korea, Singapore, Isreal, Vietnam, Denmark, UK, Taiwan, etc. The foreign ship repair is more than 60% of the total repair every year. We have rich experience in foreign ships repair.
We have manufacturing facilities of both sea and port, and possess perfec mechanic equipments and repairing work shops. Minnan shipyard consists of a 10,000 ton and a 6,000 ton floating docks, over 500 employees, with over 100 employees having technology and management of ship repair. We have gained the ISO9001 certificate of 2000 version from ABSQE, so we can provide good service for our customers. We have been rewarded as the Shanghai civilized unit for 20 years.
Our goal is credit first, quantity first and customer first. On the basis of the idea, "pay attention to the same ship, reach the same goal", we will provide economic and good service, and guarantee the quantity of work and delivery date.
ooking ahead, China is attracting the world, a growing number of investors have been pouting into Shanghai. With the development of Shanghai international shipping center, we are having more opportunities. We are looking forward to the business cooperation with you at home and abroad.
Docks:
| Type | Dwt | Length(m) x Breadth(m) |
| --- | --- | --- |
| Floating | 20,000 | 175m x 27.6m |
| Floating | 20,000 | 145m x 27m |
Ruitai Nantong Shipyard
Nantong Ruitai Shipyard Co.,Ltd,located at Rugao Port, far around 10 miles from Cosco Nantong. She has more than 20 years experiences in voyage repair and based this the shipyard was founded in 2008 and operation in 2009 and CCS certificated in 2011.The shipyard is superior in location, convenient in traffic and complete in infrastructure, where the most important five waterways are intersected here. The location is a gate from Yangtze River to East Sea, a famous historical and cultural city background.
Ruitai shipyard is mainly specialized in ship's drydocking repairs, voyage repairs and ship modification projects. She occupies 396,000 square meters presently, with abundant human resources and powerful management team. Total staff 300 persons, more than half of them are years of experienced people from each state-owned yards. With taken several years' operation and development, we are getting more matured and experienced. The company has a repair berth as 500mtrs long and a floating dock with 15,000.lifting capacity which size as 200mtr long and 35mtr inner wide, mainly for handy-sized ships. One groove dock for capesize ships' repair has being scheduled. The company is equipped with all kinds of facilities including more than 10,000M2 workshops, cherry pickers 16sets, SWL 15T dock crane 2sets, wharf crane 4070 type 2sets, as well as air compressors, CO2 and electrical welding machines, lathe machines etc., totaled more than 460sets.
Our company business philosophy "Striving for quality, developing with efficiency, environmental protection for bright future" and our policy "Business in good faith, production in good safety, quality guaranteed and service by all means" are being executed in our firm. We are carrying out ISO9000 certification system, CCS certificated in 2011. In order to broaden our marketing area, create a "Ruitai Shipyard" brand, promote our company developing quickly and steadily, we have minded in all staffs with "brand the first, profit the second" business idea, by disseminating "short period, best quality, meticulous service, reasonable price" to all ship owners. We hope our unswerving efforts be returned by your supporting.
Our company is always pursuing "Customer First" as our management tenet. We ensure do our great endeavor to serve for all kinds of ship owners. We sincerely wish to be as your best choice in the coming future.
Docks:
| Type | Dwt | Length(m) x Breadth(m) |
| --- | --- | --- |
| Floating | 75,000 | 210m x 35m |
Qingdao Beihai Shipyard
Qingdao Beihai Shipbuilding Heavy Industry Co., Ltd. (BSIC), who was firstly established in 1898 and is now one of the large key-shipyards under the China Shipbuilding Industry Corporation (CSIC), is mainly engaged in the businesses of shipbuilding, ship-repairing and conversion, building of and repairing on off-shore projects, building of large-size steel structures, designing and building of GRP boats and relative davits.
Moved to Haixiwan of Qingdao Economic and Technical Development Zone in 2004 and began to build Haixiwan Shipbuilding & Ship-repairing Base, the new ship-repairing sector and the sectors of GRP boats & davits manufacture had been built and set into production in 2004, and the shipbuilding sector had been set into production in the end of 2008.
BSIC have more than 330 hectares of land, 9 km of coastline, nearly 6 km of wharf length, two shipbuilding dry docks (500,000 dwt and 300,000 dwt each), two ship-repairing dry docks (300,000 dwt and 150,000 dwt each), one floating dock for ship-repairing (100,000 dwt), and relative equipments & facilities (including 4 sets of 600 ton gantry crane, one set of 350 ton gantry and one set of 200 ton gantry crane). The annual production capability will be: 2,000,000 dwt of shipbuilding ( 4,680,000 dwt in future ), 200 million US Dollars of ship-repairing turnover, 4 sets of offshore platform, and 500 boats of lifeboat. The BSIC will mainly undertake various shipbuilding projects of commercial vessels and offshore engineering projects (including various triangle beam structures, drilling platforms and FPSO, etc.), such as various tanker ships, container ships, large sized bulk cargo vessels and other various ships.
With first-rate design & research institute of ship and offshore engineering, the BSIC has a quite strong capability of scientific research & development and the technology of information management is advanced. Also with a reliable guarantee system of quality, circumstance and safety, the BSIC will supply wholeheartedly high quality services to all ship owners at home and abroad and will try hardly to be one of the first rate enterprises of shipbuilding and ship-repairing industry, under a principle of "the consumer highest and the quality first".
Docks:
| Type | Dwt | Length(m) x Breadth(m) |
| --- | --- | --- |
| Graving | 300,000 | 360m x 78m |
| Graving | 150,000 | 325m x 58m |
| Floating | 100,000 | 250m x 45m |
PaxOcean Engineering Zhoushan
PaxOcean Engineering Zhoushan Co.,Ltd. is a wholly owned subsidiary of Kuok(Singapore) Limited. It is 100% owned by Kuok Group, is a Singapore-based company. Kuok Group has diverse businesses which include Shangri-la Hotels. Kerry Properties, Kerry Logistics, POSH and Pacific Carrier Ltd.
Paxocean Zhoushan Shipyard provides repair,conversion and new building services to the Offshore and Marine market. The strength of our shipyard in our management, who are experienced managers in the Marine & Offshore industry from reputable shipyards in Singapore.
We offer innovative and cost-effective solutions to our customers for our repair projects no matter whether the repair is for tankers, containerships, dry cargo, gas carriers or offshore rigs. Our recent repairs for COSL 942, a Jack Up rig, received good commendation from our client. A satisfied customer is a proud achievement for the shipyard.
Our team comprises of experienced people in vessel conversions, be it FPSO, FSO and pipe lay vessel projects. Through this team of experienced people, we seek to provide our customers on time delivery of the conversion projects in our shipyard safely and cost effectively.
Our shipyard has received the Open Region permit from the Chinese authorities and this allows PaxOcean Zhoushan to receive foreign flagged vessels into our shipyard for repairs and conversion.
Docks:
| Type | Dwt | Length(m) x Breadth(m) |
| --- | --- | --- |
| Graving | 400,000 | 400m x 106m |
| Graving | 380,000 | 380m x 80m |
Jiusheng Shipyard
Zhangjiagang Jiu Sheng Shipyard Co., Ltd. is located on the south bank of the Yangtze River at Jingang Town, Zhangjiagang City, Jiangsu Province, close to the Beijing-Shanghai Highway and the cross-junction of the Highway along Yangtze River with its west side bordering Jiangyin City. Eight kilometers upstream locates Jiangyin Port Terminal, and two kilometers downstream Zhangjiagang Port Terminal. So it's very convenient for ships to enter and park into the shipyard. What's more, it's only 173 km away from Shanghai, 113 km from Suzhou and 57 km from Wuxi by land, and 144 km away from Wusong Estuary of Shanghai by water. East longitude 120 ° 17 ' and north latitude 31 ° 57', it is an ideal base for ship repair.
Jiu Sheng Shipyard is mainly engaged in dock repair,minor repair, medium repair and major repair and ship conversion of vessels home and abroad. It boasts a superior location, abundant human resources, and a professional management team. Currently, it has about 2,350 workers, including outsourcing workers and 145 technical professionals. Its key personnel are experienced in ship repair and conversion. Moreover, its personnel structure, staff's age structure and business structure have gradually become sounder.
It covers an area of 123,000 square meters, and owns a 100,000-ton (45 × 255 × 12.9 m) dry dock, a 50,000-ton (35 × 210 × 12.9 m) dry dock and three berths of a 265-meter-long outfitting pier. In addition, another six berths are expected to be completed in July this year. Its piers and docks are equipped with 80T , 30T 25T and 15T cranes. The company has a 9500-square-meter integrated ship repair workshop and a 50 T traveling crane with 30-meter span as well as supporting facilities with functions like digital cutting, cold working, machining, motor repairing, etc. The designed annual production capacity is 120 vessels for ship-repair and conversion.
The company is pursuing the management concept of "To Build a First-class Customer-satisfied Enterprise" and the management objective of "Quality, Efficiency, Safety, Morality," The shipyard is ready to work for you. Sincerely welcome to cooperate with Jiu Sheng Shipyard.
Docks:
| Type | Dwt | Length(m) x Breadth(m) |
| --- | --- | --- |
| Graving | 100,000 | 255m x 45m |
| Graving | 50,000 | 210m x 35m |
Jinhai Shipyard (Zhoushan)
Jinhai Heavy Industry Co., Ltd, founded in September 2005 and put into production in July 2007, is a large-scale modern shipbuilding enterprise under HNA Group. JHI is awarded as one of the industrial leading key enterprises in Zhejiang Province as well as one of the provincial high-tech enterprises, with a total registered capital of RMB 3.81 billion and till now, its total assets have reached up toRMB30 billion. JHI became the only one enterprise with annual output value more than RMB 10 billion in Zhoushan in 2009 and its output value had never went down during the following five years. JHI has obtained the QMS authentication certificate 2000 edition, 2008 edition of Shipbuilding and Repairing 400,000DWT vessels and HSE system certificate awarded by CCS, ranked as "Zhejiang Provincial Enterprise Technology Center" and "Zhejiang Shipbuilding and Repairing Enterprise with Safety Standardization", as well as "2010 Top Growth in Chinese Enterprise and awarded the "Shipyard Prize" issued by international authorized organization seatrade, becoming the 49th in "2011 Top 500 Zhejiang Merchants" and one of "Top Ten China Shipbuilding Enterprises", as well as one of "2012 Top 100 Zhejiang Provincial High-tech Enterprises", etc. So far, JHI has delivered about 60 vessels.
JHI occupies an area of more than 5 million m2 with workshop areas of more than 700,000 m2. Along the 13,000-meter coastline, JHI has outfitting wharf over 3800 meters and 8 docks with a total capacity of 2.08 million tons. The biggest one has a capacity of 0.5 million tons, which ranks among the best in China and even in Asia. Equipped with two 800t gantry cranes, several gantry cranes of 550t, 450t and 300t, more than 40 gantry cranes from 25t to 150t, JHI has a variety of large-scale automatic shipbuilding and repairing equipments such as 6 production lines pre-treating raw steel material, 2 plane sectional flow production lines, several imported plasma cutting machines, etc. It has main production equipment about 875 sets.
The annual steel plate processing output could be more than 0.9 million tons, while the annual output of shipbuilding could reach 6 million tons. JHI is capable of building types of large and medium ships at home and abroad such as container ships, LNG, LPG, Ro-Ro, FPSO, product tankers, crude oil tankers, bulk carriers, passenger vessels and special vessels. Its main products are 64,000DWT Bulk Carrier, 74,500DWT Bulk Carrier, 76,000DWT Bulk Carrier, 79,600DWT Bulk Carrier, 80,000DWT Bulk Carrier, 81,500DWT Bulk Carrier, 110,000DWT Crude Oil Tanker, 320,000DWT VLCC and 90m Jack-up, etc. Main ship product :110,000DWT,320,000DWT crude oil tanker, 2500TEU,8800TEU container ship , 90m jack-up platform and 64,000DWT, 82,000DWT, 180,000DWT bulk carriers.
Aiming to be a top-ranking international enterprise with first-class brand, JHI is devoted to building enterprise culture of Credibility, Achievement, Innovation , adhere to the business philosophy of "production as the core, sales as the leading , innovation as the driving ,? management as the starting point" to construct a marine engineering equipment manufacturing and ship manufacturing industry as the core, ship repairing, ship equipment, trade as one of the diversified industrial system, toward the Chinese nation advanced equipment manufacturing group and close to the goal of leader in marine economy.
Docks:
| Type | Dwt | Length(m) x Breadth(m) |
| --- | --- | --- |
| Graving | 300,000 | 400m x 80m |
| Graving | 80,000 | 240m x 40m |
Huarun Dadong Dockyard (HRDD)
Huarun Dadong Dockyard Co., Ltd (HRDD) specialises in ship repair and conversion services since its establishment in 1994.
Through its efficient management and technical expertise, HRDD has successfully delivered over 2,000 repair projects to owners globally, among which 93% are based overseas. HRDD has earned a reputation in the global market as one of the best ship repair yards in China and was listed among the top 3 in China's ship repair industry.
Embracing a set of core values – Integrity, Dedication, Teamwork and Frugality – HRDD encourages a mindset of preparedness and agility among its workforce. The company attracts talent from various fields and aims to create a holistic working environment for their career growth.
Committed to the mission of "Providing Service Excellence to Customers and Investing in Our People", HRDD focuses on health, safety and environment (HSE) concerns during operations, in its effort to be the preferred ship repair provider in China.
Docks:
| Type | Dwt | Length(m) x Breadth(m) |
| --- | --- | --- |
| Graving | 300,000 | 380m x 103m |
| Floating | 300,000 | 360m x 68m |
| Floating | 150,000 | 280m x 45m |
| Floating | 80,000 | 240m x 39m |
| Floating | 50,000 | 195m x 36.5m |
Huangpu Wenchong Shipbuilding
COMPANY PROFILE
CSSC Guangzhou Huangpu shipbuilding co., ltd subordinates to the China State Shipbuilding Corporation, it was first established since the year 1851, and has 160 years history, also is the main fabrication base for navy vessel, special engineering ship and offshore engineering in south of China.
CHANGZHOU PRODUCTION AREA
Changzhou production area is located on Changzhou Island, in the southeastern part of Guangzhou city, neighbors on the world-famous "Huangpu Military Academy" and Guangzhou University City. It is occupied an area about 700,00 square meters, more than 3,00 meters of the wharf water front length and 900 meters wharf length, it own the largest indoor shipbuilding workshop in the south of China, one floating dock with lifting capacity 12,000 tons and it equipment with advanced shipbuilding facilities. It holds 30,000 dwt shipbuilding capacities.
LONGXUE PRODUCTION AREA
Having an advantage geographic location, Longxue production area is located in Longxue Island, Nansha district of Guangzhou, which is adjacent to HONG KONG and MACAO. It covers an area of 1,180,000 square meters with 3,500m length of the coastline and 1,800m length of wharf. The yard owns one dry dock (360mx96mx14.3m) and a lot of advanced facilities, such as 600 tons gantry crane, holds 100,000 dwt shipbuilding capacity.
Docks:
| Type | Dwt | Length(m) x Breadth(m) |
| --- | --- | --- |
| Graving | 300,000 | 360m x 96m |
| Graving | 10,000 | 130m x 17.4m |
| Floating | 40,000 | 150m x 44m |
| Floating | 5,000 | 86m x 26m |
Guangzhou Wenchong Dockyard
Chengxi Shipyard (Guangzhou) CO.,LTD(Refer as "CXG" in short), established on the 1st of January, 2006 and known as China Yuanhang Shipyard(Guangzhou) CO.LTD previously, has been the top ten Chinese enterprises in ship-repairing for decades. China State Shipbuilding Corporation(CSSC) has completed its ship-repairing integration and introduced Chengxi ship-repairing shipyard CO.,LTD as new shareholder to reform Chengxi shipyard (Guangzhou)CO.,LTD on 2012.
On the 1st of September, 2014, CXG was renamed as Chengxi Shipyard (Guangzhou) CO.,LTD, holding interest by China CSSC, Chengxi ship-repairing CO.,LTD, China CSSC Holdings Limited and Hong Kong Hualian CO.,LTD. CXG has inherited the ship-repairing business of previous Wenchong Shipyard and become one of the earliest shipyards which undertake foreign ship-repairing with the repairing experience of over 60 years.
Chengxi Shipyard (Guangzhou) CO.,LTD currently employs 1800 staff with 1000 professional technical elites. Equipped with two graving docks of 200,000 DWT, 300,000 DWT and wharfs of 1,800 meters in total, CXG is competent for the repairing, conversion work of various types, with the maximum undertake of 30 DWT. Meanwhile, Chengxi Shipyard (Guangzhou) CO.,LTD owns the worksite for offshore module fabrication and is capable for large-scale steel work manufacture, offshore engineering module production and the conversion work of Ocean oil platform, FPSO, FSO etc.
As a backbone enterprise of sufficient experience, excellent technologies and precise management system and as a rising star in offshore conversion field in South China, Chengxi shipyard(Guangzhou) CO.,LTD aims to provide first-class ship-repairing service to ship owners all over the world with its core value of efficiency, harmony and comment development.
Docks:
| Type | Dwt | Length(m) x Breadth(m) |
| --- | --- | --- |
| Graving | 300,000 | 360m x 65m |
| Graving | 200,000 | 300m x 74m |
Fujian Huadong Shipyard
Fujian Huadong Shipyard lies to the north coast of Fujian Luoyuan Bay (northern latitude 26o 27,N,eastern longitude 119o 43,E )which is the most ideal deep-water shelter port in mainland China. The Shipyard covers an area of about 700,000sq.meters and has a deep-water shoreline of about 2,250m. 1st phase project of the Shipyard comprises: three dry-docks whit a capacity of 400,000DWT (375m X 72m),170,000DWT (295m X 50m) and 100,000DWT (245m X41.8m) respectively, a slipway with a capacity of 50,000DWT ,repair pier of about 1,300m with 6 berths (a 310-meter-long berth will be built for the 2nd phase project), workshops and etc. of about 50,000sq . meters (more are expected to be constructed for the 2nd phase project totaling 50,500sq.meters in area) and supporting production facilities & Equipments.
Based on the advantages of Luoyuan Bay such as its water depth, flow of current and the sheltering condition and so on , Shipyard's 2nd phase project will focus on marine engineering A manufacturing large scale dock( 240m X 120m) for marine engineering project is expected to be constructed with supporting facilities. At the time of the completion of construction, the Shipyard will become the most important and ideal ship repairing and marine engineering manufacturing base among the areas from South of Zhoushan to the North of the mouth of the Pearl River, Cross Straits areas included.
LuoyuanBaylocates among the port clusters of South-east coastal areas of China and faces the vital sea routes-Taiwan Straitto the east. Surrounded by mountains, the Bay has a water area of about 200 square kilometers. Incomparable advantages of the Bay are : deep water ,broad expanse, calm wave , and gentle water-flow, mud free and ice free etc .It is now one of the key deep-water port areas inFujianProvince. The natural condition and the location advantages provided by its geographic position are quite favorable for the shipyard to extend the safest and most convenient ship repairing service to vessels home and abroad.
Docks:
| Type | Dwt | Length(m) x Breadth(m) |
| --- | --- | --- |
| Graving | 300,000 | 375m x 72m |
| Graving | 180,000 | 295m x 50m |
| Graving | 100,000 | 245m x 41m |
Dalian Shipbuilding Industry (DSIC)
Dalian Shipbuilding Industry Co., Ltd. (with DSIC as its acronym) is operated under the China Shipbuilding Industry Company Limited, which is a public company that has been listed on the stock market, with the China Shipbuilding Industry Corporation as the controlling company. In the more-than-100-year-old history since its founding in 1898, through struggle and unremitting efforts, guided by the spirit of the "Great Shipyard", the people of DSIC create numerous glories and brilliant achievements during the development process of the China's Shipbuilding Industry.
At present, DSIC is the only domestic shipbuilding enterprise group that boasts the ability to provide ship's life cycle service, including product R&D, product design, construction, ship repair, conversion and ship scraping. DSIC is also the only domestic equipment manufacturing enterprise group that is complete with 5 industrial sectors, i.e. military project undertaking, shipbuilding, offshore equipment building, ship repair/ship scraping and heavy industrial project undertaking. The total assets value of DSIC has reached RMB 100 billion, with annual sales value exceeding RMB 20 billion.
With a complete shipbuilding infrastructure, strong capabilities in R&D and production, DSIC is able to undertake the design and construction of ships of various types and tonnages, including ships from fishing vessels of 1000 tons in deadweight to VLCCs of 300,000 tons in deadweight, from ordinary bulk carriers and oil tankers to 10,000TEU containerships and large-scale LNG carriers. Acclaimed as the Flagship of China's shipbuilding industry, DSIC is the first domestic shipbuilding enterprise to have joined the rank of the world's top 5 shipbuilders.
DSIC has made great contribution to the national defence and the modernization of Chinese navy. In total, 820 naval ships of 44 types have been built here since the founding of the People's Republic of China. DSIC is a domestic shipyard that boasts the strongest capabilities in R&D and production of surface naval ships and have built the greatest number of warships for the China's navy. The first gunboat, the first guided-missile submarine, the first guided missile destroyer and the first oil-and-water replenishment vessel of the P.R.C. were all built by DSIC, which is acclaimed as the cradle of China's naval ship building.
DSIC is the first offshore equipment fabrication enterprise in China to have developed the self-owned intellectual property right for jack-up drilling rigs and to have played the role of a general contractor. DSIC is capable of building and converting various types of offshore engineering equipment for its customer, from the shallow-water jack-up drilling rigs that can operate in waters of 50 feet, 300 feet, 350 feet and 400 feet in depth, to the deep-water semi-submersibles including Bingo 9000 Type from Ocean Rig, 9500 Type from F&G and BT3500 Type from Bassoe Technology, plus Floating, Production, Storage and Offloading unit(FPSOs),and offshore support vessels.
With the new economic model of depending on traditional advantages and building green recycling economy, Dalian Changxing Island Ship Repair/Scrapping Base jointly invested by DSIC, Angang and PIL has become another model for strategic cooperation between downstream and upstream enterprises of the industrial chain. After the base reaches the full production capacity, it will be capable repairing 83 ships, scrapping 700,000t steel and converting three 300,000t ships each year and grow into an important ship repair/scrapping base in Bohai Rim and Northeast Asia.
DSIC has 100-year old boiler and pressure container workshop and famous Metal Material Explosive Processing Research Institute in China. DSIC has been developing heavy industry with large investment and on a high launching since 11th five-year period. With the milestones of successful R&D and construction of the third-generation nucleic power equipment, installation equipment of offshore wind power facilities, offshore petroleum equipment, large lifting equipment, large seawater desalting equipment, large petrochemical and mining equipment, DSIC's heavy industry sector will enter into a fast track of development.
Docks:
| Type | Dwt | Length(m) x Breadth(m) |
| --- | --- | --- |
| Graving | 300,000 | 420m x 68m |
| Graving | 200,000 | 330m x 58m |
Daishan Haizhou Shipyard
Daishan County, Zhejiang Haizhou shipbuilding, established in 1963, is a professional and abroad and medium-sized ship repair and renovation of private enterprises. The company is located in Daishan of Zhoushan City Economic Development Zone, adjacent to Shanghai Yangshan, Ningbo and Zhoushan, and other international port, located in the international waterway, convenient transportation, is the ideal base for shipbuilding.
Haizhou Companies registered capital of 152 million yuan, covers an area of about 700,000 square meters, about 1,183 meters shoreline, now has 560 m × 40 on Dry Dock one (8-ton double dock), 180 meters and 400 meters outfitting quay each one as well as ancillary equipment to meet the ship repair and reconstruction needed facilities, already have 300,000 tons of floating repair dock repair 80,000 tons of production capacity. Haizhou second phase of construction is being planned for November 30, 2011 completed construction content includes: 360 m × 68 on Dry Dock a (30-ton), 680 m pier (which 400 meters have been put into use) one, as well as terminals and other materials, will form a "two five dock berth," the production pattern.
Companies adhere to the "people-oriented, scientific management, innovation, advance with the times" business philosophy, "customer satisfaction is our pursuit of" services for the purpose, and constantly improve the internal management mechanism to attract talent from all over the country. In 陈登华 and other personnel at the core of the industry benchmark for quality management team, the company is leading the Haizhou strides towards the development direction of Chinas leading ship repair enterprises.
The company in 2009 through the ISO9001-2008 quality management system certification, the same year was awarded the Ministry of Transportation awarded the "Peoples Republic of China port facility security compliance certificate." Company with a good reputation, reliable quality, reasonable prices and quality service has won praise at home and abroad, with operations in Europe, America, Asia more than 30 countries and regions.
Docks:
| Type | Dwt | Length(m) x Breadth(m) |
| --- | --- | --- |
| Graving | 80,000 | 260m x 40m |
| Graving | 80,000 | 300m x 40m |
| Graving | 300,000 | 360m x 68m |
COSCO Zhoushan Shipyard
COSCO (Zhou Shan) Shipyard is close to the international sea route and navigation hub clusters in Asia, and it is a newly built shipyard with one DWT 150,000 dock and four piers in service. Importantly, COSCO (Zhou Shan) Shipyard is building a very large ship repairing, building and conversion base composing of three docks ranging from DWT 80,000 to DWT 300,000 ( dock capacity: nearly DWT 1,110,000), three piers, 4,500m coastline and 2,000,000 m2 land area. Within the next few years, it will have the potential to grow into a mega shipyard and capable of servicing all marine activities, including VLCC repairs and offshore blocks fabrication.
Docks:
| Type | Dwt | Length(m) x Breadth(m) |
| --- | --- | --- |
| Dry Dock | 100,000 | 280m x 40m |
| Dry Dock | 300,000 | 410m x 68m |
| Dry Dock | 150,000 // 80,000 | 539m x 49.2m |
COSCO Shanghai Shipyard
In Shang Hai, the international shipping center, COSCO (Shang Hai) Shipyard has one DWT 50,000 floating dock, 350m berthing quays and more than 30 years experience in repairing and servicing a wide variety of onshore and offshore engineering activities for the marine industry such as refrigerated carrier, chemical tanker, LPG tanker and other emergency projects.
Docks:
| Type | Dwt | Length(m) x Breadth(m) |
| --- | --- | --- |
| Floating | 50,000 | 195m x 35m |
COSCO Nantong Shipyard
COSCO (Nan Tong) Shipyard in Yangtze River Delta Region has one DWT 150,000 floating dock, one DWT 80,000 floating dock, four repair berths and 400,000m2 land areas. Back in the past 10 years, it has become the prime shipyard of the COSCO Shipyard Group, with its advanced facilities, highly-trained technical personnel and experienced workforce, handing approximately 150 vessels per year and holding the leading position in China all along and is extensively renowned home and abroad for its achievement in big projects and ship conversion.
Docks:
| Type | Dwt | Length(m) x Breadth(m) |
| --- | --- | --- |
| Floating | 150,000 | 270m x 48m |
| Floating | 80,000 | 230m x 42m |
COSCO Guangdong Shipyard
As a high-class repair enterprise in the areas of south China, COSCO (Guang Dong) Shipyard is equipped with a Panama size DWT 80,000 floating dock, a DWT 150,000 dock, four repair berths, a deep quay of 1200m, and 200,000 m2 land area as well as other perfect facilities. COSCO (Guang Dong) Shipyard possesses a team of experienced engineers and skilled workers. Specialist network is available herein such as DMI, Woodward, ABB, Wartsila, Alfa Laval, Kobbelco, Lips and Man B&W etc. They handle around 200 ocean vessels per year.
COSCO (Guang Dong) Shipyard's aim is 'high quality, safe, high-efficient, civilized'. Since establishing, COSCO (Guang Dong) Shipyard has accomplished thousands of vessels' from more than 28 countries and areas, and has abundant experience in the projects respect of high- tech content. Now it is the most promising ship repair enterprise in South China.
Docks:
| Type | Dwt | Length(m) x Breadth(m) |
| --- | --- | --- |
| Floating | 80,000 | 238m x 40m |
| Floating | 150,000 | 269m x 52m |
COSCO Dalian Shipyard
In Da Lian, the Northeast International Shipping Center, COSCO (Da Lian) Shipyard is the largest shipyard in COSCO Shipyard Group so far. By the existing facilities, COSCO (Da Lian) Shipyard can undertake more than 200 large-size ocean vessels' repair and conversion annually and become the main base for ship repair, conversion and off shore marine engineering manufacture in North-East Asia. It has one world¡¯s biggest DWT 300,000 floating dock, one DWT 180,000 dock, one DWT 80,000 dock and nine repair berths including DWT 300,000 wharf and 10,000t slipway. Its land area totaling 1,200,000 m2 is well equipped and serves as an ideal place for the repair and conversion of large bulk carrier, container carrier and VLCC.
Docks:
| Type | Dwt | Length(m) x Breadth(m) |
| --- | --- | --- |
| Floating | 300,000 | 350m x 66m |
| Floating | 180,000 | 260m x 48.5m |
| Dry Dock | 80,000 | 240m x 40m |
CIC Lixin Shipyard
China Shipping Industry Co., Ltd. Lixin Shipyard is located in the Shanghai gold waterway, along the Huangpu River, the geographical position is very advantageous.
Lixin Shipyard owns three branches. They are located in Pudong's Sanlin, Donggou and Gaoqiao districts, equipped with "CS Huangshan" floating dock with 13,000t lifting capacity; "CS Huashan" floating dock with 9,000t lifting capacity, " CS Pudong" floating dock with 22,000t lifting capacity. The shipyard can repair 18 vessels of Handymax and Panamax types at the same time, which can give more options to the ship owners.
For decades, Lixin shipyard has been repairing and converting large cargo ships, oil tankers, passenger ships, refer carrier, harbor launch as well as variety of multi-purpose vessels for foreign and local shipping companies. Dock repair cycle is ranked one of the best among all the international players. In addition to routine repairing work, the general average repair, hatch cover manufacturing, the repair of propellers, boilers, turbocharger, crankshaft, and stern shaft seal bonding process are also the specialties of Lixin Shipyard.
Docks:
| Type | Dwt | Length(m) x Breadth(m) |
| --- | --- | --- |
| Floating | 80,000 | 222.5m x 38m |
| Floating | 30,000 | 190m x 28.4m |
| Floating | 25,000 | 164m x 27.4m |
CIC Changxing Shipyard
China Shipping Industry (Shanghai Changxing) Co., Ltd is a modern and large ship-repair joint venture, hold, funded and combined by China Shipping Group Co., Ltd and China Shipping (Hong Kong) Co., Ltd, specialized in the repair, new-building and converting of various types of conventional, special and high-performance ships, in the repair and modifying of offshore platform and in the offshore engineering area.
China Shipping Industry (Shanghai Changxing) Co., Ltd is located at Changxing Island, at the mouth of East Sea. Nationally it is the largest base for ships and offshore engineering projects, with a 3500-metre long coastal line, and the water depth of minus 10-16 meters (excluding tide water). The advantaged location enables the 340-metre long VLOC to turn around on site. It is not only suitable for the general large scale ship repair, but also suitable for the offshore engineering projects including the conversion work of FPSO and oil drilling platform. Relying on the China Shipping's brand and supported by the management and technique of China Shipping Industry Co., Ltd, it has brought in large numbers of intermediate and senior technicians and business personnel, and has got tens of specialized ship-repair teams with nearly 5000 ship repair and conversion workers.
The Company implements an integrative managing system of "Quality, Environment and Professional Health and Safety. It is the first ship-repair company in China authenticated by DNV. Its consummate management provides the clients with the production and service at international standard.
Based on the modern corporation standard, the Company has already provided repairing service for domestic and overseas renowned ship owners from USA, Germany, Turkey, Greece, Singapore, and Hong Kong China etc. countries and regions. It has won the reputation for its high quality, precise repair duration and good service. The Company will be in accordance with the concept of Solid Work, Innovation and Overstepping and carry forward the spirit of "Centenary China Shipping, Harmonious Shanghai Changxing" in order to realize the top modern ship-repair company.
Docks:
| Type | Dwt | Length(m) x Breadth(m) |
| --- | --- | --- |
| Floating | 300,000 | 410m x 72m |
| Floating | 200,000 | 308m x 50m |
| Floating | 80,000 | 247m x 36.6m |
CIC Boluomiao Shipyard
CIC Boluomiao Shipyard, a subsidiary of China Shipping Industry Co. Ltd, is an integrated ship repair base in South China. Boluomiao Shipyard was set up in November 2008, incorporated by the original CIC Boluomiao Shipyard and CIC Chenganwei Shipyard. CIC Boluomiao Shipyard locates at the joint of Zhong Shan Avenue and Huang Pu Bridge, neighbor to Huang Pu Port. It has a Quay Line of 540m and vessels up to 80000DWT can be undertaken repair or conversion.
Now the Shipyard has a staff of 400 persons, including a variety of senior professional engineers 190 persons. Factories of the Shipyard are standardized and normalized, equipped with completed set of facilities for ship repair, applying consummate technique for repair and conversion. The Shipyard is equipped with a steel floating dock: Fei Long Shan Dock, with lifting capacity of 20,000T, Overall Length 240M, Inner Breadth 36M. The Shipyard has argued its capability by achieving the approval from many famous classification societies such as CCS, LR, ABS, BV, DNV, GL, NK, etc. Clients of the Shipyard are from all over the world, especially in Europe, America, Asia, as well as Ship Owners from Hong Kong, Macau, Taiwan and dominate Areas.
The Shipyard owns advanced technique of ship repair and conversion and has a good capacity of steel structure's design and production. It can undertake the prefabrication and assembly of pipeline. Steel renewal capability of the Shipyard has been advanced in Domestic.
The Shipyard has powerful capacity of Mechanical & Electrical Integration, as well as consummate technique of repairing marine mechanism, offering vessels safe and reliable power and excellent automation. The Shipyard possesses nearly 100 sets of facilities for machining works and a batch of NC machine tools. No matter large or exact accessory can be undertaken machining.
The Shipyard also owns advanced techniques such as marine extinguishing works and special jointing, special spray coating, low temperature iron plating, engineering plastic and metal lock and so on. The Shipyard can undertake design and assembly of marine extinguishing system, mendy for propeller, hot-spraying for all kinds of metal parts, steel construction thickness measurement, NDT, color-metal moulding, machinery fabrication, meter apparatus examination and reconditioning, sewage water treatment, and so on.
Over these years, Boluomiao Shipyard never stopped its steps to be scale-up and specialized in ship repair and conversion. It has been hammering at improving production and management, and actualized CAD and CAM in production. In the recent years, Boluomiao Shipyard pierces itself successfully through some high-tech ship repair and conversion works, for example: Conversion from Bulk Carrier to Container Ship, Conversion from Bulk Carrier to Asphalt Ship, Conversion from Single hull to Double hull for Oil Tanker, Conversion from Oil Tanker to Bulk Carrier. There were not only Oil Tankers, Bulk Carriers, Passenger Ships and Container Ships, but also some other special kinds of vessels such as the Marine Multi-Purpose Ships, LPG Carrier, Asphalt Ships, Chemical Tankers, Ro-Ro Ships, Dredgers have been undertaken repair and conversion commendably in these years. All these achievements made Boluomiao Shipyard win a good grace of the owners from everywhere.
Boluomiao Shipyard stands to the tenet "Be heartfelt to vessels as well as to others" all the time, aims to be a large first-class shiprepair enterprise and tries its best to satisfy all the clients with her best services. "The law of safety production" and "The law of environment protection" were executed strictly in Boluomiao Shipyard. Health of the staff has been ensured and environment pollution has been reduced by establishing Quality Management System, Occupational Health and Safety Management System and Environment Management System.
The shipyard welcomes all the clients' kind patronizes and looks forward to mutual cooperation with your Messrs for a more beautiful future.
Docks:
| Type | Dwt | Length(m) x Breadth(m) |
| --- | --- | --- |
| Floating | 80,000 | 240m x 36m |
| Floating | 8,000 | 122m x 19m |
Chengxi Shipyard (Xinrong)
Chengxi Shipyard (Xinrong) Co.,Ltd. is a joint venture corporation by Chengxi Shipyard Co., Ltd, HongKong Brilliant Hero Industrial Ltd., as a state-owned holding modern enterprise for ship repair & conversion.She located at Xingang port in Jingjiang city, Jiangsu province, North Latitude is 32°02'43",East Logitude is 120°24.5′.The company has an advantage in road and water way transportation as it is adjacent to the port cities like Shanghai, Ningbo, Nantong and Zhangjiagang.
There are more than 240 engineers and technicians in company,and covers an area of 230,000 square meters. There are two floating docks with deadweight capacity of 170,000 tons and 100,000 tons. Outfitting quay is 1060 meters, the front water depth being 12-20 meters and the main navigation channel 30 meters. The quay has been equipped with shore crane with lifting capacity of 60 tons/70meters X 2 sets,50 tons /100 meters X 2 sets, 32tons /72 meters X 2sets. Steel workshop covers an area of 16,000 square meters. Machinery & Electrical workshop covers an area of 20,000 square meters. Piping workshop covers an area of 7,000 square meters. Hatch covers paint cell covers an area of 10,000 square meters. Hatch covers repair place covers an area of 30,000 square meters with two sets gantry crane of 50 tons. The company has been fully equipped with advanced ship repair facilities, and the company has been accredited and certificated by CSQA with QMS, EMS and OHSMS.
The company is mainly engaged in ship repair & conversion, offshore unit repair & conversion. The annually capacity is repair & conversion between 120 to 150 vessels & offshore units. The company has successively established close cooperation. The annually capacity is repair & conversion between 120 to 150 vessels& offshore units. The company has successively established close cooperation relationship with many other countries and regions, such as France, UK, Norway, Greece, USA, Indonesia, Brazil, Russia, Canada, Australia, Japan, Korea, Singapore, India, Taiwan, Hongkong and so on. We gradually enjoy more and more popularity in ship repairing industry.
The company abides by the business concept from CSSC Chengxi Shipyard Co., Ltd. "One Vessel as an advertissement, and One Advertisement as One Market", sincerely wishing to cooperate with the owners all over the world.
Docks:
| Type | Dwt | Length(m) x Breadth(m) |
| --- | --- | --- |
| Floating | 170,000 | 330m x 53.5m |
| Floating | 100,000 | 285m x 48.5m |
Chengxi Shipyard
Chengxi shipyard Co., Ltd. is a subsidiary corporation wholly-owned by China CSSC Holdings Limited. The company is located in Jiangyin city, Jiangsu province, at lower reach of Yangtze River, which is adjacent to the important port cities such as Shanghai, Nantong, Zhangjiagang etc. and it is convenient for river and land transportation. The company is mainly engaged in the ship repair & new building, offshore engineering and large steel construction. There are over 10,000 employees in the company including more than 1,200 professional technicians.
The company has two ship repair/new building bases in middle China(Shanghai area) including Chengxi Shipyard and Chengxi Shipyard (Xinrong) Co., Ltd., covering a production area of total 1.02 million square meters, a shore line along Yangtze River over 3,500 meters. The two bases have ten deep-water berths, five floating docks with deadweight capacity of 170,000 tons, 120,000 tons, 100,000 tons, 80,000 tons and 50,000 tons respectively, one slipway of 80,000 tons and one inside harbor quay, floating crane of 1,600 tons and other facilities for ship-repairing and shipbuilding. The steel construction division owns twenty production lines for wind mill fabrication and other superior facilities for the fabrication of steel structures.
The company including three bases has an annual capacity of repairing over 600 vessels up to 300,000 DWT, new building of 25 vessels up to Kamsarmax, steel construction of 150,000 tons, and wind mill fabrication over 1,000 sets.
Docks:
| Type | Dwt | Length(m) x Breadth(m) |
| --- | --- | --- |
| Floating | 170,000 | 330m x 53m |
| Floating | 120,000 | 285m x 48m |
| Floating | 100,000 | 257m x 42m |
| Floating | 80,000 | 265m x 40.8m |
| Floating | 50,000 | 217m x 36m |
Western India Shipyard
Western India Shipyard Limited (WISL), India's largest composite ship & rig repair facility in the private sector, is one of the world's advanced multi-dimensional and multi-purpose yard offering modern, streamlined, sophisticated ship & rig repair facilities and industrial services.It is part of ABG Group & Companies & Subsidiary of ABG Shipyard Ltd.
WISL's state-of-the-art Floating Dry Dock "westerner" has a capacity to repair ships upto 60,000 dwt and to accommodate ships upto 225m. length and 32.5m. in breadth.
The yard has been designed and established in collaboration with world leaders in Ship Repairs. Functionally laid out and built around the gravity centre concept, the yard is 90% covered by lift and carry facilities by Portal/EOT/FDD & mobile cranes.
WISL is strategically located at Mormugao Port Goa along the west coast of India at 15° 25′ North and 73° 47′ East and is geographically best positioned to offer a complete range of ship repair services. The shipyard has ISO 9001:2008 Quality Certification.The port is an international customs Port. Goa also has a domestic airport. The Classification societies such as IRS, LRS & ABS have offices at Goa.
Shiprepairs consists of replacement of aging steel plate, pipes and valves, refurbishment of crew accommodation, repair/replacement/ renovation of deck side equipment, crane and tank covers, navigational equipment like propeller and rudder repairs, hull and tank repairs, surface coatings and rust prevention, air conditioning and communication systems, etc.
WISL repairs vessels such as cargo vessels, passenger vessels, transhippers, dredgers, coast gaurd / Naval vessels, barges, tugs, OSV'S, tankers and deepwater oil rigs.
Docks:
| Type | Dwt | Length(m) x Breadth(m) |
| --- | --- | --- |
| Floating | 60,000 | 225m x 32.5m |
L&T Shipbuilding (Kattupalli Shipyard)
L&T's Kattupalli facility is in Tamil Nadu on India's east coast, near Chennai. The facility holds a mega shipyard for shipbuilding as well as retrofitting and conversions. The facility also holds an export-oriented Modular Fabrication Facility (MFF) offering an offshore platform and floating production-cum-storage units and similar products / systems for the oil & gas sector. L&T has a controlling interest in its joint venture L&T Shipbuilding Limited (LTSB) with Tamil Nadu Industrial Development Corporation Ltd. (TIDCO).
The 400,000 sq. m. yard with the MFF has a heavy load-out jetty and an initial dredged channel of 6 metres below chart datum (upgradeable to 12 metres below chart datum). The future development plan will address construction facilities for deep-water floating and modular units. The length of the quay (jetty) is 84 km. Since tidal variation is minimal, it allows for year-round load-out and sail-out.
Docks:
| Type | Dwt | Length(m) x Breadth(m) |
| --- | --- | --- |
| Syncrolift | 60,000 | 200m x 46m |
Karachi Shipyard & Engineering Works
Karachi Shipyard and Engineering Works was established in mid fifties as a project of Pakistan Industrial Development Corporation (PIDC) and incorporated as a public limited company in 1957, managed by a Board of Directors with Managing Director as the Chief Executive.
Karachi Shipyard is situated at west wharf Karachi and spread over an area of 71 acres. It has a large shipbuilding hall, two block fabrication areas, three shipbuilding berths, two dry docks, a well equipped machine shop and a large grit blasting and painting facility with modern machinery for paint application under controlled environment as per international standards. A ship lift and transfer system with a lifting capacity of 7881 tons and 13 in number parking stations is being installed which is planned to complete by end 2016.
Karachi Shipyard is the only shipyard and oldest heavy engineering establishment of Pakistan, catering for shipbuilding, ship repair and general heavy engineering. It has played a historical role in transferring of technologies and broadening the industrial base of country.
Docks:
| Type | Dwt | Length(m) x Breadth(m) |
| --- | --- | --- |
| Graving | 26,000 | 189m x 27m |
| Graving | 18,000 | 171m x 24m |
Hindustan Shipyard
The Hindustan Shipyard Ltd, Visakhapatnam was set up in the year 1941 by the Scindia Steam Navigation Company. The Shipyard was partially taken over by Govt. of India in 1952, and HSL became a fully Govt of India owned enterprise in Jul 1961. Presently, this is the largest public sector shipyard in the country and the first yard to obtain ISO 9001-2000 accreditation. Recently, the yard has obtained certificate of approval of ISO 9001-2008 Certification from IRQS on 09 Nov 2012. Since inception, the yard has delivered 173 vessels of various types and repaired over 1920 vessels.
The yard has three slipways, a covered building dock, a wet basin and a dry dock along with necessary facilities required for shipbuilding, ship repairs and submarine repairs.
The Dry Dock is an important adjunct to the Shipyard for undertaking repairs of ships. The Wet Basin with two arms serves additional afloat repairs. It is capable of handling vessels upto 70,000 DWT. The Dry Dock, the biggest and modern dock in the East Coast, has accomplished intricate repair jobs on a variety of Naval Ships including Submarines, Merchant Ships and Oil Rigs. Foreign and Indian Flag Ships totaling over 1900 Nos. have undergone hull and engine repairs.
Docks:
| Type | Dwt | Length(m) x Breadth(m) |
| --- | --- | --- |
| Graving | 70,000 | 244m x 38m |
Cochin Shipyard
Cochin Shipyard was incorporated in the year 1972 as a fully owned Government of India company. In the last three decades the company has emerged as a forerunner in the Indian Shipbuilding & Shiprepair industry. This yard can build and repair the largest vessels in India. It can build ships upto 1,10,000 DWT and repair ships upto 1,25,000 DWT. The yard has delivered two of India's largest double hull Aframax tankers each of 95,000 DWT . CSL has secured shipbuilding orders from internationally renowned companies from Europe & Middle East and is nominated to build the country's first indigenous Air Defense Ship.
Shipyard commenced ship repair operations in the year 1982 and has undertaken repairs of all types of ships including upgradation of ships of oil exploration industry as well as periodical lay up repairs and life extension of ships of Navy, UTL, Coast Guard, Fisheries and Port Trust besides merchant ships of SCI & ONGC. The yard has, over the years, developed adequate capabilities to handle complex and sophisticated repair jobs.
The Shipyard also trains graduate engineers to marine engineers who later join ships both Indian and foreign as 5th Engineers. 100 are trained every year.
Docks:
| Type | Dwt | Length(m) x Breadth(m) |
| --- | --- | --- |
| Graving | 120,000 | 270m x 45m |
Viktor Lenac Shipyard
Viktor Lenac is one of the leading shipyards for ship repair, conversions and offshore in the Mediterranean.
Founded in 1896, Viktor Lenac shipyard has a long tradition of ship repair and conversion and was among the first in the world with ship lengthenings.
With its three floating drydocks, one accommodating vessels up to 160,000 dwt, more than 1,000 meters of berthing space, a large offshore construction site and a highly skilled workforce, is a modern shipyard capable of completing the most complex projects on short deadlines and up to highest standards.
Viktor Lenac has built a respectable reference list of complex projects in conversion and offshore and is among the few specialized yards for ship conversions and gas platform construction in the entire region of the Mediterranean.
By investing in our people and facilities we are serving our clients needs in the ever changing market.
Docks:
| Type | Dwt | Length(m) x Breadth(m) |
| --- | --- | --- |
| Floating | 160,000 | 261.7m x 53m |
| Floating | 60,000 | 201.5m x 33.8m |
| Floating | 20,000 | 155.5m x 32.4m |
Suez Shipyard
Suez Shipyard is located in the southern entrance of Suez Canal , in the Northern tip of Suez gulf . This unique location gives the Suez Shipyard great importance in ship repair market and it offers a wide range of services to international customers. Suez shipyard is one of 7 companies affiliated to Suez Canal authority, this gives Suez shipyard a great power and ability to carry out any process according to international standers by aid and cooperation with the Suez canal authority and other sisters company of Suez shipyard which having different various activities.
Docks:
| Type | Dwt | Length(m) x Breadth(m) |
| --- | --- | --- |
| Floating | 200,000 | 302m x 55m |
| Graving | 8,000 | 140m x 22m |
Neorion Syros Shipyards
Docks:
| Type | Dwt | Length(m) x Breadth(m) |
| --- | --- | --- |
| Floating | 80,000 | 230m x 35m |
| Floating | | 195m x 33.5m |
Elefsis Shipbuilding & Industrial Enterprises
Docks:
| Type | Dwt | Length(m) x Breadth(m) |
| --- | --- | --- |
| Floating | 120,000 | 252m x 41m |
| Floating | 75,000 | 227m x 35m |
| Floating | 22,000 | 162m x 24m |
Chalkis Shipyards
Docks:
| Type | Dwt | Length(m) x Breadth(m) |
| --- | --- | --- |
| Floating | 48,000 | 195m x 33.5m |
| Floating | 15,000 | 151m x 21m |
Alexandria Shipyard
Alex shipyard located inside the free zone of the western port of Alexandria in the heart of liner destined to and from the Far East, it is located in the southern Mediterranean port in the western port of Alexandria, the area about 400,000 square meters and the total length of approximately 1,200 meters yards, in a position to provide services to all ships entering the port of Alexandria and it is considered a free zone.
Docks:
| Type | Dwt | Length(m) x Breadth(m) |
| --- | --- | --- |
| Graving | 85,000 | 267m x 40m |
| Graving | 10,000 | 158m x 19m |
Adriatic Shipyard Bijela
The "Adriatic Shipyard Bijela" is the biggest shiprepairing yard in the Southern Adriatic. It is located in Boka Kotorska bay, one of the safest natural harbours in the world, and has centuries long shipbuilding and maritime tradition.
The Shipyard was established in 1927, and nowadays it has a large experience and extraordinary human, expert and technical capacities. Its most modern management guarantees the contracted deals will be reliably accomplished with the uncompromising quality, competitive prices and terms, in accordance with the the regulations of the world's most prominent Classification Societies.
This business attitude enables clients to make significant cost and time savings, in addition to the vessel's service life extension. Top quality work is also confirmed by an international certificate ISO 9002, the Shipyard was awarded in 2000. Implementation of ISO 14000 and ISO 18000 standards is under way.
The Shipyard is completely equipped for repairing and reconstructing ships and other vessels, of all types and for all purposes, of up to 120,000 deadweight tons, regardless of the size of the damage and of reconstructing operation. It has two floating docks of 250 meters and 184 meters in length, an operating wharf of 1,120 meters in total length, three tugs, a great number of cranes in different types and carrying capacities between 2,5 and 50 tons, extensive and various power plants, and up to date communication devices, as well as all necessary workshop capacities and equipment.
An increase in productivity and quality of the performed work, improvement of working conditions, salaries and living standards of the employed, responsible and complete fulfilment of the concluded deals, investing in advanced capital resources and equipment, as well as an active price policy, ensure that the "Adriatic Shipyard Bijela", in a sharp competition in the market, by applying appropriate European and world standards, laws and rules, will continue positive trends in its business, satisfying its clients, shareholders and workers.
Docks:
| Type | Dwt | Length(m) x Breadth(m) |
| --- | --- | --- |
| Floating | 120,000 | 250m x 45.2m |
| Floating | 30,000 | 184m x 26.8m |
Riga Shipyard
RIGA SHIPYARD is one of the largest yards in the Baltic region repairing more than 100 seagoing vessels per year. RIGA SHIPYARD has built more than 130 hulls, some partially outfitted, since 1997.
Established in 1913 and having almost a century old history, today we continue to serve our European and Scandinavian customers focusing on ship repair, conversion and shipbuilding. Riga Shipyard co-operates with all Classification Societies, major equipment and paint manufacturers, logistics and shipping companies.
Riga Shipyard's Quality Management System was approved by Lloyd's Register Quality Assurance as complying to Quality System Management Standard EN ISO 9001:2000 in 2001. Furthermore, Riga Shipyard's Testing Laboratory has been recognized by BUREAU VERITAS as per Rule Note NR320 for tests, examinations, dectections and analysis.
RIGA SHIPYARD's 9 berths, 3 docks and two slipways are located on the banks of Daugava river channels. The yard is capable to accommodate PANAMAX size vessels for dry-docking and AFRAMAX size vessels for afloat repairs. The works are being carried out all year round.
RIGA SHIPYARD consistently follows its policy of meeting customers' requirements as customers' interests come first.
RIGA SHIPYARD provides high quality and reasonably short repair and building time at competitive prices.
KEY FACTS
• Repair, building and metal construction works all year round • 3 floating docks • 2 slipways (95X16m and 115X16m) for building maximum 100m long hulls, launching weight – maximum 1.000t • Berths up to 8 meters in depth, total length – 2 000 meters • Shore cranes up to SWL 32 tons • Floating cranes up to SWL 100 tons • Agency service • Tugboats service (("Orkāns": 180GRT, 1189hp; "Ņečiporenko": 178GRT, 1189hp) • Diving assistance • Testing Laboratory certified by BV and MRS • Full range of ship repair works and services 24 hours per day 7 days a week • Conversion of different types of vessels, including lengthening • Daily steel renewal capacity up to 10 tons per day and night
Riga Shipyard's affiliate TOSMARE Shipyard operates 3 docks in Liepaja.
Finally, Riga Shipyard is located very close to the center of Riga city – the capital of Latvia. Its cultural and historical attractions might make a stay in Riga memorable and pleasant at any time of the year.
Docks:
| Type | Dwt | Length(m) x Breadth(m) |
| --- | --- | --- |
| Floating | 80,000 | 225,7m x 36,6m |
| Floating | 50,000 | 217,6m x 30,5m |
| Floating | 20,000 | 132m x 21,5m |
MSR Gryfia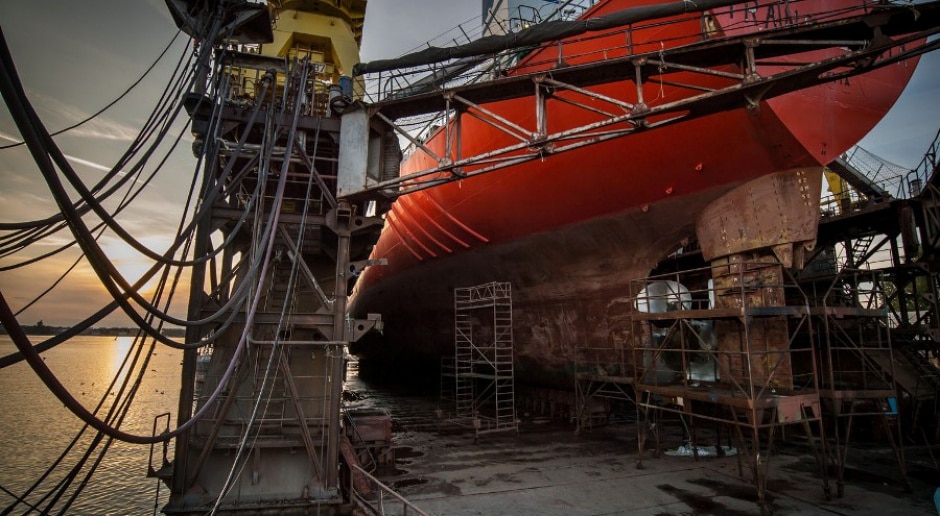 ALKOR Shiprepair Yard
ALKOR Sp. z o.o. was set up in 1989. The company is situated close to the centre of Gdańsk city and has convenient sea, land and air connections. Also hotel facilities are available in the close vicinity of our company. ALKOR is able to carry out any repair work, both routine and class renewal repairs as well as conversions and extensions of ships. For detailed services provided by our company see the heading SERVICES.
The Company is one of a few repair shipyards in Poland having available its own floating dock. Our dock is 155 m long and 24.7 wide between the side walls and its lifting capacity is 8,000 t. For the full scope of technical facilities see the heading REPAIR FACILITIES Since the beginning of its existence the company has carried out repairs and conversions of nearly 800 ships of different types and flags including ships of the Polish, Norwegian, British, Dutch, German, Greek and other Owners. For more information on our repairs to ships in the recent years see the attached LIST OF SHIPS.
The key objective of our activity is to satisfy our customers by providing high-quality work within the scheduled time and at reasonably low prices. The best mark for ALKOR are the customers who are satisfied with our work and who give orders for repair of their subsequent ships. ALKOR achieves success owing to its highly professional managerial staff. For contact with the managerial staff see the heading MANAGEMENT.
Docks:
| Type | Dwt | Length(m) x Breadth(m) |
| --- | --- | --- |
| Floating | 20,000 | 155m x 24m |
Oman Drydock Company (ODC)
Oman Drydock Company (ODC) is one of the biggest and most modern ship repair yards in the Middle East. Located in Duqm, in the Al Wusta region of Oman, ODC is strategically located on the southeast corner of the Arabian Peninsula outside the 'Hormuz Strait' and is in close proximity to the busy regional trade routes traversing Oman's coastal.
ODC was established in September 2006, by the Government of the Sultanate of Oman with 100% investment and is operated by Daewoo Shipbuilding & Marine Engineering Company Limited (DSME) of Korea.
ODC's strategic location, climate, world-class yard facilities, technical support from DSME, and integrated services will provide ODC's customers great advantage and merit.
Docks:
| Type | Dwt | Length(m) x Breadth(m) |
| --- | --- | --- |
| Graving | 600,000 | 410m x 95m |
| Graving | 500,000 | 410m x 80m |
Yiu Lian Dockyards Limited (Hong Kong)
The base on Tsing Yi Island is located at Hongkong . It is equipped with two floating docks with capacities of 150,000dwt and 30,000dwt , and owns the second largest tugboat fleets in Hongkong.
Yeosu Ocean Co., Ltd.
Our Shipyard is located on the sea Yeosu at the hub of the Northeast Asia Sea's shipping route, we provides a Complete repair and conversion service for ship owners.
Shin Kasado Dockyard
Shin Kasado Dockyard Co.,Ltd.succeeded the Repair Department of Kasado Dockyard Co.,Ltd.and established on 1st April,1988 mainly for the business of repair conversion of ships and fabrication of the industrial machineries.Our yard is located in the part of Open Port of Tokuyama Kudamatsu port with calm water in all seasons which lies the western edge of main land of Japan and faces Bungo Strait,is convenient for coming in and going out without compulsory inland pilot and restriction of time to port in and sail out ,also is equipped with 3(three)repair drydocks(51,000G.T.37,600G.T.and 7,500G.T.)which are extremely effective for quick response to the repair and remodelling of all types of ships and marine structures. With these facilities and advantageous location,we will continue every effort to make contributions to shipping industries and engineering and construction works,keeping our minds on "Quality Control","Cost-Down"and "Short Working Time".
Docks:
| Type | Dwt | Length(m) x Breadth(m) |
| --- | --- | --- |
| Graving | 70,000 | 227m x 37m |
| Graving | 10,000 | 141m x 21m |
Orient Shipyard (Gwangyang Yard)
Docks:
| Type | Dwt | Length(m) x Breadth(m) |
| --- | --- | --- |
| Floating | 200,000 | 300m x 68m |
Orient Shipyard (Busan Yard)
Docks:
| Type | Dwt | Length(m) x Breadth(m) |
| --- | --- | --- |
| Floating | 80,000 | 210m x 47m |
Naikai Zosen Corporation
Naikai Zosen is a shipyard that was formed through the merger of Setoda Shipbuilding and Takuma Shipbuilding in 1972. In 2005, it absorbed Nichizo IMC, turning it into its Innoshima yard, which has become a core yard alongside its Setoda shipyard, and has engaged in repair work and ship construction. It constructs mainly cargo ships, containerships, PCTCs, product tankers, RORO ships, and ferries, and in terms of conversion and repair work, it handles a variety of ship types, including warships. Using a blend of cutting edge technology created through sophisticated research and development, and technical skills cultivated through its experience-rich traditions, it constructs high-quality ships to meet a variety of needs.
Docks:
| Type | Dwt | Length(m) x Breadth(m) |
| --- | --- | --- |
| Graving | 70,000 | 230m x 36m |
| Graving | 20,000 | 170m x 25m |
| Graving | 10,000 | 119m x 19m |
| Graving | 5,000 | 74.4m x 12.5m |
CSBC Keelung Shipyard
China Shipbuilding Corporation
The state-run China Shipbuilding Corporation (CSC), with 5,200 employees, was contracted to build the Navy's second-generation ships: Missile Frigates and Missile Patrol Boats. Taiwan originally planned to build eight missile frigates. To-date, seven PFG-2 (Perry Class) frigates have been produced by CSC and turned over to Taiwan's Navy. The construction of the last missile frigate was canceled, then resumed. The first 500-ton missile patrol boat was turned over to the Navy in December 1995.
The Keelung Shipyard established in 1945, a well-noted state enterprise for its unique role in the shipbuilding history, was merged into this corporation in 1978. After repeated expansions and innovations in the post years, it haas the capability to meet the demand of efficiency. Three dry-docks,two of 130,000 DW and one of 30,000 DWT 2.A building slip of 32,000 DWT 3.1,600 meter quaywalls are well covered with cranes and utility systems.
Docks:
| Type | Dwt | Length(m) x Breadth(m) |
| --- | --- | --- |
| Graving | 130,000 | 265m x 45m |
| Graving | 30,000 | 210m x 26m |
CSBC Kaohsiung Shipyard
The state-run China Shipbuilding Corporation (CSC), with 5,200 employees, was contracted to build the Navy's second-generation ships: Missile Frigates and Missile Patrol Boats. Taiwan originally planned to build eight missile frigates. To-date, seven PFG-2 (Perry Class) frigates have been produced by CSC and turned over to Taiwan's Navy. The construction of the last missile frigate was canceled, then resumed. The first 500-ton missile patrol boat was turned over to the Navy in December 1995.
The Kaohsiung Shipyard, with its consturction completed in June, 1976, was one of The Ten Major Economic Construction Projects of The Republic of China in the seventies. A one millon ton dry-dock measures 950 meters long,92 meters wide and 14 meters deep With the intermediate gate,it can be sectioned into 3 stages of 180,390,and 380 meters. Two goliath cranes,350 tons each,astride over the dry-dock and the grand assembly area. An one hundred thousand tons repair dry-dock measures 275 meters long, 45 meters wide and 12 meters depth equipped with most advanced running utility system specially for ship repair. 1,800 meters long quaywalls with depth of 10 meters are well covered by a number of railed LL-cranes and utility system. There are 5 production works namely, Hull Works,Outfitting Works Special Project Works.Ship Repair and Machinery Manufacturing Works. All equipped with skilled workers and modern facilities.
Docks:
| Type | Dwt | Length(m) x Breadth(m) |
| --- | --- | --- |
| Graving | 130,000 | 265m x 45m |
| Graving | 30,000 | 210m x 26m |
Tandanor Shipyard
TANDANOR has a strategic location within the port area of the city of Buenos Aires.
On the South Channel, at the River Plate Estuary, only access to the Hidrovia formed by the rivers, Paraguay, Parana and de la Plata, along which we find ports fit for oceanic vessels operations.
Northward, already on the Atlantic coast, we have the main Brazilian ports, and Southward, the most important commercial and tourist ports of Argentine Patagonia. Only 10 minutes' drive far from Domestic Flights Airport and 20 minutes' drive from Ezeiza International Airport, which makes it easy to reach through the highways network. Also 15 minutes' drive far from downtown of the modern and dinamic city of Buenos Aires, which enables us to arrange lodging and services as per our clients needs.
The Syncrolift is a huge elevator, a shipraising platform which is operated by a group of electro-mechanical lifts which place the platform to ground level. The vessel to be dry-docked is put onto boggies throughout the length of the ship and towed on rails to the work site, through a transfer car with sideways motion that enables the vessel to be placed at the working cradles. The number and size of these slipways hinges on the number of ship to be attended simultaneously.
The transition area rests on 54 piles of 900 mm. diameter each and the SYNCROLIFT is supported by 182 piles of 26 metres long and a diameter ranging from 900 to 1.250 mm. being placed with the utmost precision.
· 15.000 tons of lifting capacity. · 11.700 tons of transfer capacity. · Vessels up to 55.000 tons DWT (L.About 220 Mt.) · Four working sites of 220, 178, 149 and 148 Mt
Docks:
| Type | Dwt | Length(m) x Breadth(m) |
| --- | --- | --- |
| Syncrolift platform | 55,000 | 184m x 32.90m |
Sermetal Estaleiros
| Type | Dwt | Length(m) x Breadth(m) |
| --- | --- | --- |
| Graving | 25,000 | 155m x 25m |
ASMAR Talcahuano Shipyard
Located in the Bay of Concepcion, Talcahuano, it is the main shipyard of ASMAR. In its complete facilities, ASMAR highly skilled staff provides services such as shipbuilding of commercial and military ships up to 50,000 dwt and the repair, modernization and refit of commercial and military ships up to 96,000 dwt according to the most demanding quality standards guaranteed by the certification of its Quality System in accordance with the most demanding international standard, the ISO-9001:2008, by the Lloyd's Register Quality Assurance.
Its facilities, approved according to the ISPS Code (International Ship & Port Facilities Security), include two drydocks, five floating docks (two of them roofed), over 1,100 m of berths and mooring sites with associated services, a newbuilding slipway, and modern production centers in areas such as structures, electric, mechanics, diesel engines, machine-tools, boilers and piping, electronics, weapon systems, weapon mechanics, finishings, etc that support maintenance, repair, modernization, conversion, refit, and shipbuilding activities.
Also, the Shipyard has a unit approved by the National Standardization System under the NCh-ISO 17025 of2005, called the Patterns Laboratory, which offers calibration services under controlled environmental conditions and with modern metrologic infrastructure.
Docks:
| Type | Dwt | Length(m) x Breadth(m) |
| --- | --- | --- |
| Graving | 96,000 | 245m x 33.4m |
| Graving | 18,000 | 175m x 21.32m |
Malaysia Marine & Heavy Engineering (MMHE)
A pioneer in the Malaysian heavy industry, Malaysia Marine and Heavy Engineering Sdn Bhd were incorporated on 18 May 1973 under the name of Malaysia Shipyard & Engineering Sdn Bhd (MSE).
In May 2005, after establishing as one of the players in the marine heavy engineering the then MSE was re-branded into the Malaysia Marine and Heavy Engineering Sdn Bhd (MMHE).
The three core businesses of MMHE are Engineering and Construction, Marine Repairs, and Marine Conversion.
MMHE has comprehensive on-site facilities. We are able to simultaneously accommodate the construction of large marine structures at our open fabrication yard and supported well equipped workshops, drydocks and shiplift facilities. Other facilities include a 12,000 ton bulk head, heavy lift cranes, computer numerical control and CNC cutting machines.MMHE also offers a unique docking facility, having one of the largest shiplift in the world to cater for vessels of up to 50,000 dwt on its land berth.
Docks:
| Type | Dwt | Length(m) x Breadth(m) |
| --- | --- | --- |
| Graving | 450,000 | 385m x 80m |
| Graving | 140,000 | 270m x 46m |
| Shiplift Platform | 50,000 | 188.4m x 33.8m |
Zamakona Yards – Repnaval Shipyard
REPNAVAL is a shipyard specialized in repairs, conversions and maintenance of ships weighing up to 5500 MT in dry dock. Its facilities are equipped with 5 slipways ready to dry dock ships of maximum dimensions of 123 meters long and 21 meters wide.
In our facilities we have also a 120 meters long fitting pier with a maximum draught of 7 meters. This infrastructure allows us to provide a floating repair service without dry docking.
We have at our facilities various types of machinery, from lathes, fixed and portable boring machines, honing machines, an ultrasound machine, state-of-theart machinery for mobile alignment and laser honing. Everything required to provide an efficient service.
Environmental and Occupational Health and Safety REPNAVAL's commitment is to render maximum quality services in keeping with labour risks prevention and eco-friendly activities.
In order to achieve these priority objectives: We strive to constantly improve. We maintain close, interactive communication with our clients. We apply an Integrated Management System in all our operations.
Work is carried out with full guarantee and in accordance to the world`s major classification societies, such as Lloyd´s Register of Shipping, Bureau Veritas, Germanischer Lloyd´s, Registro Italiano Navale, Nipon Kaiji Kyokai, De Norske Veritas, American Bureau of Shipping, etc.
Docks:
| Type | Dwt | Length(m) x Breadth(m) |
| --- | --- | --- |
| Slipway | 15,000 | 123m x 21m |
West Sea Viana Shipyard
West Sea is a shipyard located in Viana do Castelo, North of Portugal. Created by the Martifer Group in 2013, the company is the current sub-concessionary of the lands and infrastructures of the former ENVC – Estaleiros Navais de Viana do Castelo.
The shipyard is one of the most important infrastructures in Western Europe, with docking capacity for large and medium size ships. It is equipped with workshops and lifting devices for the construction of large modules and equipment.
With a total area of 250,000 sqm, the shipyard has the facilities to undertake shipbuilding, conversions and ship repair of any type of vessel up to 37,000 tonnes, 190 metres of length and 29 metres of breadth, as well as small/medium-sized vessels.
Strategic Location
West Sea has a strategic location in Northern Portugal, near the Atlantic Ocean and close to several important ports on the international stage, such as Vigo, Leixões (Porto) and Lisbon.
Location within the Atlantic route, in the centre of several international routes, namely: between the Mediterranean and Northern Europe between Northern Europe and South America between the Mediterranean and North America
Docks:
| Type | Dwt | Length(m) x Breadth(m) |
| --- | --- | --- |
| Graving | 37,000 | 190m x 29m |
| Graving | 10,000 | 127m x 18m |
Shipyard Reimerswaal
Over the years, Shipyard Reimerswaal has been committed to providing adequate and cost efficient maintenance and repairs for a wide variety of ships. Fishing ships, dredgers, inland navigation vessels, tugs, coasters, all of them are in good hands at Shipyard Reimerswaal.
Located near the busy West Scheldt River, our yard is thé service station enroute to the ports of Vlissingen, Terneuzen, Gent, Rotterdam and Antwerpen.
Nowadays, the location on the banks of the West Scheldt River is closed down. At our current location we have two floating docks, layby and repair berths and a well equipped workshop.
Shipyard De Schroef
Shipyard De Schroef is located in Sas van Gent along the busy shipping route Ghent-Terneuzen, near the Western Scheldt. Our company welcomes seagoing- and inland vessels for repairs, conversions, outfitting and new building. Our facilities are excellent for services below and above the waterline and our Dry Docks can accommodate vessels up to 162 meters length, a beam of 22 meters and 8 meters draft.
Our skillful employees are specialist in the areas of steel repair, welding, blast- and paintwork, electrical works, piping repair/modification, hydraulics, mechanical work etc.
Royal Niestern Sander
Shipyard Royal Niestern Sander is located in the Northern part of the Netherlands with a direct connection to the North Sea via the port of Delfzijl. A significant area of the Delfzijl harbour accommodates one of the most modern and versatile shipyards of the Netherlands, the yard of Royal Niestern Sander. Royal Niestern Sander is a member of Conoship International, Netherlands Maritime Technology, FME/CWM as well as SBE. Royal Niestern Sander is certified for ISO 9001 and SCC** (VCA**) and is a registered member of FPAL and SQS (Shell Supplier Qualification System).
Royal Niestern Sander has a wide, multi-specialized experience in ship repairs. The company has specialists in all existing sub-disciplines. This is an appropriate response to the demand for surveys, appraisals and the possible subsequent maintenance and repair orders. The national and international customer base includes large and small commercial vessels, inland-vessels, tugboats and ferry services, the rescue company, the offshore industry, coastal and marine fisheries and the government.
Niestern Sander offers a wide range of services to the merchant sea going fleet. The yard is equipped with a slipway of 147 m. long, a floating dock of 105 x 19 m. and a floating dock of 176 x 27 m. To support the maintenance activities a fully equipped construction hallway and machine shop are available.
Metalships & Docks
Metalships has established over the years recent a cute shipyard fit to tackle the most challenging projects in the most efficient and timely manner. Good planning, excellent project management, careful logistics control and impeccable timely execution are the strengths that have made Metalships a worldwide reference for special and complex ships.
Docks:
| Type | Dwt | Length(m) x Breadth(m) |
| --- | --- | --- |
| Floating | 20,000 | 162m x 30.8m |
| Floating | 10,000 | 127.6m x 29.2m |
Lloyd Werft Bremerhaven
Our name is related to first-class quality work, experienced workers and absolute respect of deadlines. The Lloyd Werft shipyard company is your partner of choice in repairs, conversions, modernisation or completion of ships of every kind, in record time.
National and international shipping companies rely on our company, which has an excellent reputation. Famous ships, including the "Norway", the "Norwegian Sky", the "Queen Elizabeth II", the "Costa Victoria" or the "Europa", are some of the numerous ships that our shipyard services have already worked upon.
We offer short docking times, all services of a modern shipyard company and world-wide readiness for operation service teams.
The Lloyd Werft shipyard company is strategically located in Bremerhaven on Germany's North Sea coast. Our company has more than 100 years of experience in repair, conversion, modernisation and completion every kind and almost every size of ship. This includes passenger ships, ro-ro vessels, cargo ships and ferries, bulk and oil carriers, LNG-tankers, chemical product tankers, container ships, refrigerated vessels, crane ships and different types of offshore technology. We also carry out maintenance work on destroyers, frigates, mine sweepers and auxiliary vessels of the German Navy.
The shipyard includes two dry docks, two floating docks, ample crane capacities on land and a floating crane, all necessary workshops, as well as repair and equipment piers to a length of 1 400 metres. Ships up to 110,000 dwt and a draught of up to 11,5 metres can be docked.
The company employs a labour force and permanent staff of around 530 people. They are under the direction of experienced engineers and foremen and undertake any type of conversion, maintenance and modernisation work.
Docks:
| Type | Dwt | Length(m) x Breadth(m) |
| --- | --- | --- |
| Graving | 30,000 | 222m x 26m |
| Graving | 90,000 | 335m x 35m |
| Floating | 110,000 | 286m x 38m |
| Floating | 15,000 | 147m x 21m |
Eiffel Industrie Marine
EIFFEL Indusrie's shipyard activities are an important part of our business. As project supervisors in the Saint Nazaire basin, we handle construction, repair and refitting projects. Our expertise is mainly focused on the supervision of shutdowns and projects of varying degrees of complexity in the overall management of operations (such as blocking, painting, scaffolding and reception onboard).
Our work is carried out during calls at ports, damage repairs, scheduled shutdowns (for maintenance or class-related operations) and new construction programmes.
The vessels we work on include cruise liners, military ships (frigates, hydrographic survey vessels and submarines, etc.), merchant vessels (oil tankers, bulk carriers and gas carriers, etc.), supply vessels (tugs, etc.) and offshore platforms.
Our facilities at Saint-Nazaire include: 3,500 sq. m. of quayside workshops Four dry docks, including the Joubert dry dock (350x50x10 m) Repair docks
These areas of expertise and facilities underpin our considerable experience in managing projects for the benefit of our customers in compliance with their safety, quality, planning and budget requirements.
Docks:
| Type | Dwt | Length(m) x Breadth(m) |
| --- | --- | --- |
| Graving | 240,000 | 350m x 50m |
| Graving | 40,000 | 226m x 35m |
| Graving | 6,000 | 159m x 17m |
| Graving | 1,500 | 117m x 11m |
Blohm & Voss